Nebula Awards Showcase 2017 edited by Julie E. Czerneda (book review).
I've enjoyed reading a lot of the Nebula Awards winning novels over the past few years, so it seems like the members of the SFWA who vote for the awards have pretty good taste. The annual 'Nebula Awards Showcase' volumes contain the winning novellas, novelettes and short-listed short stories, as well as excerpts from the nominated novels.
This is the first of those volumes I've read so I'm not entirely sure whether they're always arranged in the same way, but the 2017 volume also includes information on the SFWA, the Nebula Awards in general and about some of the specialist awards and their winners. Overall, this makes for an interesting background and context to the stories contained within.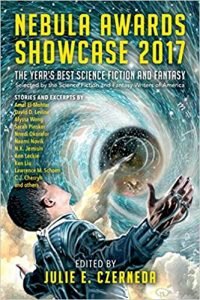 For the most part, the short-listed short stories are Earth-bound, near-future tales and several revolve around illness, death, drugs and depression. These are usually quite effective and obviously a lot of people like them, but I find it all rather depressing and started wishing for a bit of fun space opera or far-future shenanigans of some kind.
'Madelaine' is Amal El-Mohtar's story of a woman whose memories are triggered by smells and sensations, leading her to seemingly travel back in time to earlier parts of her own life associated with those memories. Or perhaps she is merely intensely re-living those memories. Or perhaps her brain has been addled by the drugs trial she is on. Or maybe her mind has been affected by the death of her mother. It was minimally SFnal, but intense and evocative.
Next up, Naomi Kritzer's 'Cat Pictures Please' is a bit of light relief as the self-aware Internet tries to induce people to supply cat pictures for its enjoyment and also attempts to help some depressed, disorganised people improve their lives. It was all rather fun.
Then we actually head into space for space battles and space opera with David D. Levine's 'Damage', about an emotionally damaged AI fighter bomber in the last throes of a war against the Earth. The ship, with no official name, is intensely linked to its pilot and struggles against its own doubts and inadequacies as it tries to live up to the heroic image of its pilot. This was probably my favourite story of the collection.
Sam J. Miller, whose novel 'Blackfish City' I rather enjoyed recently, gives us the semi-epistolary 'When Your Child Strays From God', a story of drugs, repression, family problems and a mother's quest to save her son from himself. I was a bit underwhelmed by the angst and the plot device of a drug that induces shared hallucinations.
It's more despair in a care home for Martin L. Shoemaker's 'Today I Am Paul' which, although clever in its use of a semi-aware care android, was basically a story of the decline brought on by Alzheimer's and the family's struggle to cope. Again, touching and effective, but I much prefer something a bit more upbeat.
The winning story, Alyssa Wong's 'Hungry Daughters Of Starving Mothers', is a horror story, a genre that's included under the wide Nebula umbrella. I don't read horror in general, except for the occasional short story included in an anthology. I always find them somewhat dissatisfying as there never seems to be an explanation or any logic to whatever horror occurs. This is true in this case, too, where, for an unexplained reason, a young woman feasts on the negative thoughts and emotions of her victims, with results that don't make any sense. I guess that's why I don't read horror.
Sarah Pinsker's 'Our Lady Of The Open Road' is the winning novelette and centres around a touring band struggling against advances in technology that are making live music obsolete. It's an engaging and thoughtful tale, but didn't strike me as ground-breaking or breath-taking.
I've read the winning novella, Nnedi Okorafor's 'Binti' previously and in fact I'm looking forward to the forthcoming release of the omnibus edition of the three 'Binti' novellas. This is the kind of Science Fiction I like: full of originality, discovery and cultural adjustment and a very worthy winner.
The novel excerpts are, of course, very useful if you want to try before you buy, as you often can with e-books. I'm not one of those people, though, but it was also interesting to read the authors' comments on the books as well as the articles on the other winners, such as Grand Master C.J. Cherryh, whose new 'Alliance-Union' book I'm also looking forward to getting hold of.
Altogether this is a good picture of contemporary speculative fiction and shows that tastes can vary widely in the field. I shall continue with my mission to read through the award-winning novels from years past and it will be interesting to see what the Nebula Awards Showcase 2018 will bring.
Gareth D. Jones
December 2018
(pub: Pyr/Prometheus Books, 2017. 331 page small enlarged paperback. Price: $18.00 (US), $19.00 (CAN), £14.15 (UK). ISBN: 978-1-63388-271-3. Ebook: Price: $ 9.99 (UK), $11.99 (CAN). ISBN: 978-1-63388-272-0)
check out website: www.pyrsf.com