Illustrators #25 (magazine review).
The 25th issue of 'Illustrators' and it's practically a cheesecake or girlie edition. Former editor Peter Richardson explains how the magazine first started as a means to show unfamiliar artists which often explains why I'm always finding surprises. They seriously look for the artists you might have missed.
The first is French artist Milo Manara (1945- ), an advocate of pencil, pen and watercolour and girlie art although this hasn't stopped him doing other work over his career. Although influenced by Möbius in his early career, he definitely carved out his own style here and has been commissioned for various companies world-wide over the years. I was amazed when I checked him out as to how many books he's actually done.
I hadn't realised just how much Greg Hildebrandt (1939- ) had gotten into good girl art over the years but the samples here both in the standard acrylic and mixed-media are a sight for sore eyes. His works on blackboard remind me a bit of Virgil Finlay except Hildebrandt paints rather than etches the board. For the artists among you, there are lessons in colour usage to set the mood and the contrasts can be quite startling.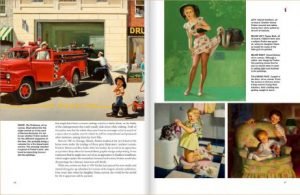 Back in the 1950s, Art Frahm (1907-1981) relied on oils for his paintings, often recognised with women carrying shopping bags that always contained celery and failed underwear or animals tugging at their dresses. In contrast are his children and hobos paintings and a sense of humour throughout all of them. Looking at the samples here, his use of oils are often more brightly lit than sombre colouring and yet he was good at both.
I have heard of Margaret Brundage (1900-1976) as she did pastel covers for 'Weird Tales', usually with unclothed women ensuring that the issues sold although there were some readers who disliked them. She is also the first person to ever illustrate a certain Conan ensuring her place in history. Reading her background her colour work seems an interesting contrast but like all artists, she cornered a market but couldn't break out of it when things changed.
This issue is an interesting mix of techniques from different eras and you're going to find a lot of favourites here and have fun figuring out why. Don't be put off by the description above. The art is to die for and lessons for all budding artists in various mediums.
GF Willmetts
March 2019
Illustrators # 25
(pub: The Book Palace, 2019. 98 page illustrated squarebound magazine. Price: £18.00 (UK), $21.99 (US). ISBN: 978-1-907081-78-1. ISSN: 2052-6520)
check out website: www.bookpalace.com