Wonders: Spectacular Moments In Nature Photography (book review).
Sometimes I pick out books because the geek in me thinks that if I saw a particular book in a shop then I would at least peak behind the cover. 'Wonders: Spectacular Moments In Nature Photography' falls under that category. If you want to be inspired by various aspects of nature and the natural world then you definitely want to peruse and even buy this book. Some of the photographers even share how they took their photos. Some of the creatures even look alien. I was looking at the Jumping Spider and realised I was only focusing on its middle two eyes which shows how we react to what we see. Equally, seeing an eastern screen owl's plumage conceal it in a tree trunk is a reminder of how animals can adapt to their environment.
These are all winners in the Big Picture Natural World Photography Competition, founded in 2014 by the California Academy Of Sciences with over 100 photos here.
Oddly, although Suzi Eszterhas does the introduction to one of the parts and has a small photo of hers, she isn't included in the photographers photo gallery at the end of the book. What she does write is significant as she explains what makes nature photographers go through to get their photographs. This concentration of effort made me realise we're seeing a different branch of geekiness which normal people don't really understand. Other introductions are by Dr. Sylvia A. Earle, Dr. Jonathan Foley and Rhonda Rubinstein.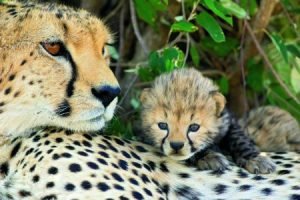 The landscapes shown are truly alien enough for you to think they aren't of this planet which should show nothing should ever surprise you about this planet.
In many respects, the photos speak for themselves with this book. Most are on one side of a page although a few do creep over the centrefold. I would have thought it would have made more sense to reduce the size of the photo that do that. Nevertheless, all are inspiring and some really hard to believe they were taken on this planet.
GF Willmetts
July 2018
(pub: Chronicle Books. 142 page illustrated oblong hardback. Price: £26.00 (UK), $35.00 (US). ISBN: 978-1-4521-6456-4)
check out website: www.chronicles.com