Slender Man (2018) (Blu-ray film review).
A female slumber party decides to call up 'Slender Man'. Don't these people ever watch horror films of a similar nature? Of course, it doesn't appear to work, so they go back to the house and watch a film. Nothing might not be happening but some of the girls start to get nightmares. One of the girls suddenly goes missing and the police are called in. These girls also don't believe in electricity because they never turn the main lights on in the house. Even their torches aren't LED. Whether this is a metaphor for a plot that also meanders in the dark, I'll leave you to decide.
The girls compound things by trying to call up the Slender Man themselves to get their missing friend back. Then, like '10 Little Indians', one more goes missing. I'm not saying who as that's too much spoiler.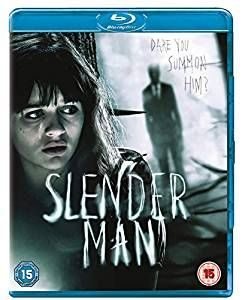 The worse thing about this film is so much of it is in the dark. Not being able to see anything is hardly a good way to show these girls in danger. The end music is actually very good but it's not a film for my tastes.
On the blu-ray disk, there is one extra. 'Summoning The Slender Man' runs at 2½ minutes and is actually a lot better than the film and then I realised it was a preview. I'm only seeing the advance copy here.
GF Willmetts
December 2018
(region B blu-ray: pub: Sony Pictures. 93 minute film with extras. Price: £14.99 (UK). ASIN: B07GKR7YHN)
cast: Joey King, Julia Goldani Telles, Jaz Sinclair, Annalise Basso, Alex Fitzalan, Taylor Richardson, Jessica Blank and Javier Botet
check out website: www.sonypictures.co.uk