Jack Kirby Collector Seventy-Eight (magazine review).
Alongside a rundown of some of the content from this issue, I thought I'd try to give an insight into the 'feel' of 'The Jack Kirby Collector' for those who, like me, haven't read it before.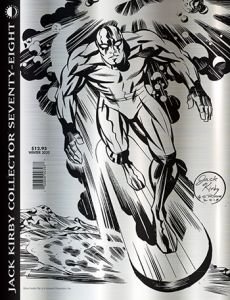 Handily, though this is the 25th anniversary issue, giving it a cool, metallic, Silver Surfer cover, there's no indication that the content is different from a normal issue. So the first note for new readers is that this isn't some flimsy pamphlet, you get a lot of content here and it certainly gives good value in terms of pure word count. Helpfully, the dense text is well laid out and there are a lot of illustrations and photos to keep drawing you through. There are even pages from some of Kirby's comics that made me want to go off and read more. In terms of articles, this issue contains pieces like:-
'Jack Kirby At Fleischer Studios' by Jim Korkis is a short look at Kirby's early work as a cartoon 'inbetweener' at Fleischer Studios, giving some insight into how and why he moved into comics.
..'How Simon And Kirby Kickstarted The Silver Age' by Will Murray is a long, detailed piece presents some intriguing arguments about how influential Kirby's early work was, but I felt it gradually began to lay its arguments on a bit thick.
'Kirby Obscura' by Barry Forshaw is a fascinating look at less mainstream Kirby works, with nice personal insights and a readable style.
'Marvel Precursors' by Alex Grand has a long look at how Kirby revisited or reused, if you will, elements from his early work for his Marvel heroes. It's hard to argue with the many examples listed here but the big question is whether Kirby was deliberately repurposing his old concepts for a fresh audience.
'Solid Silver Continuity' by Norris Burroughs is a look at how clever Kirby's panel-to-panel work was, particularly in the 'flow' of fight scenes.
Meanwhile, 'Back At The Fallen Monsters…' by Robert L. Bryant Jr. is an amusing run through Kirby's final work on Marvel's 'Mighty Thor' which, given that Kirby was just about to quit, details how 'phoned in' a lot of the issues were. I liked that this, as with several of the other pieces, showed Kirby in a less than perfect light, as opposed to the articles which, in my opinion, went too far in basically presenting him as the originator of the modern comics industry.
'Event Horizon' by Adam McGovern is a really interesting look at how Tom Scioli has revisited the Fantastic Four and given them his own spin in his book, 'Grand Design'.
I'd never read any of the American newspaper comic, 'Mutts', but suspect that even its fans won't have spotted every time the comic's art reused a Kirby image in a comical way. Some of the references in 'Going Mutts Over Kirby' by Glen Gold were very clever and frequently amusing.
There are several other pieces I've skipped over, plus excerpts from several Kirby comics, a long interview from the '2019 Wondercon Kirby Tribute' panel, and so on. As mentioned, you certainly get your money's worth!
So, if you're a Kirby/Silver Age comics fan then you should definitely pick this issue of 'The Jack Kirby Collector' up as I imagine you'll learn something new, but you'll definitely have some interesting angles to think about.
But if you've never read any of the history of the comics industry then, like me, you may come out of this issue with more questions than answers. For example, many of the articles give the impression that Kirby was a genius creator who perhaps didn't make the best business decisions and was stabbed in the back by Stan Lee and the industry in general. I'm aware of the campaign to get Kirby recognised as the co-creator of many of the key Marvel characters but this magazine, perhaps naturally given its focus, isn't the place to give both sides of the story. Still, it may well make you want to dig further into it all.
Stuart Maine
March 2020
(pub: TwoMorrows Publishing. 84 page magazine. Price: $12.95 (US). ISBN: 919-449-0344. Direct from them, you can get it for $12.95 (US))
check out website: www.TwoMorrows.com and https://twomorrows.com/index.php?main_page=product_info&cPath=98_57&products_id=1521