Category: Films
Here's the trailer for Top Gun Maverick – set in the current day with Captain Peter "Maverick" Mitchell – aka Tom Cruise – as the new flight instructor at Top Gun, where he guides Bradley, Goose's son, who wants to become an aviator like his dad was. Coming June 26th 2020 from Paramount Pictures.
Here's the first trailer for Paradise Hills, an urban fantasy film via the Sundance Film Festival, directed by Alice Waddington with actors Emma Roberts, Danielle Macdonald, Awkwafina, Eiza González, Milla Jovovich, and Jeremy Irvine starring in the flick. Hitting the cinema on November 1st 2019 from Samuel Goldwyn Films. 
A Kingsman movie prequel (the two movies based on the Kingsman comic-book created by Dave Gibbons and Mark Millar) produced by Matthew Vaughn which looks at the start of the spy organisation at the turn of the 20th century. Edwardianpunk, anyone? The cast includes Ralph Fiennes, Harris Dickinson, Daniel Brühl, Rhys Ifans, Gemma Arterton, Aaron […]
Xmas 2019 will see Jumanji: The Next Level arrive in the cinemas for December 13th 2019. The 4th film stars Dwayne Johnson, Kevin Hart, Jack Black, Karen Gillan, Nick Jonas, Ser'Darius Blain, Madison Iseman, Morgan Turner, and Alex Wolff, redoing their roles from the previous flick, alongside newcomers Awkwafina, Danny Glover, and Danny DeVito. The […]
There doesn't seem to be a Disney cartoon film that the Mouse can't reboot as a live action flick – and in that spirit, here's the first trailer for their oriental-focused fantasy film, Mulan. Is it just me, but do the elements from the original film now seem much more in tune with the times, […]
Here's the trailer for Netflix's new original science fiction series from Aaron Martin and Noreen Halpern, Another Life, which stars actress Katee Sackhoff as the central character. From the trailer, it looks like one of the Alien movies sprinkled with a little added Interstellar and Arrival, aimed at fans missing Katee from her Battlestar days […]
'Astronaut' seems like it ought be an appealing story for young and old alike. Retired Engineer Angus is too old to be sent into space, but that is his one great wish. By chance, a space industrial company will send a contest winner into space, but Angus is clearly too old to qualify. Now, also […]
In this upcoming horror film, Nekrotronic, there are demons loose on the internet infecting people through smart phones, luckily there are a Ghostbusters-like team of necromancers out to stop them. Phew. For a moment, I thought we were going to have it.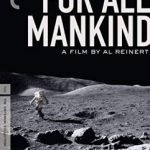 The contents of this Blu-ray disc were originally published in 1989, presumably on video (NTSC/VHS), since even DVDs did not come on to the market until 1997. So although this is 'digitally re-mastered', etc supervised and approved by producer-director Al Reinart, the quality of the pictures is still limited by the fact that it originally […]