Still trying to get Tegan (actress Janet Fielding) back to Heathrow Airport, the Doctor (actor Peter Davison) gets it wrong by 300 years into the past. There, they with Nyssa (actress Sarah Sutton) and Adric (actor Matthew Waterhouse) encounter villagers who go on the attack. Fleeing, they meet actor and possible highwayman Richard Mace (actor Michael Robbins) who leads them to the barn he shelters in. They piece things together about a meteorite crashing concealed a spaceship's rescue capsule landing.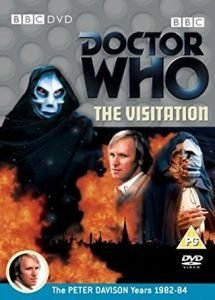 Investigating the nearby house, they find more evidence of aliens and an aggressive android then stuns Tegan and Adric, forcing the others to flee. The Doctor plans to make a device in the TARDIS to disable the android for Nyssa to build. They also discover the alien vessel but leaving, they are faced with three controlled and armed villagers and have to use the alien vessel as a sanctuary before blowing another door to escape.
Tegan and Adric meet the reptilian alien, Terileptil (actor Michael Leader), who has got the information from them before locking in a dungeon. Breaking out, Adric escapes but Tegan is recaptured and this time mind-controlled by a wrist bracelet. Terileptil has created a genetically modified virus that he is going to take to two colleagues in London to release as a genocide drug spread by rats to kill mankind. Have a think about that for a moment. Considering they use a slave labour force, what are they going to do when they have none left?
Of course, everyone is separate from each other. Nyssa creates the weapon to beat the android. Impatient Adric runs first into the villagers and then the android ordered to take over the TARDIS. Meanwhile, the Doctor has to escape Terileptil, not to mention both the controlled Tegan and Richard Mace. For the rest, you'll have to watch for yourself and see the end of the sonic screwdriver for quite a while.
This is also the start of the period where the Doctor does more than his fair share of killing. Not always intentionally but this one was. Granted the Terileptils are not exactly the nicest people in the cosmos but this regeneration is a tad more ruthless.
The audio commentary is with director Peter Moffatt and the amnesic cast, Peter Davison, Janet Fielding, Sarah Sutton and Matthew Waterhouse, none of whom can remember anything much beyond the rehearsals. This story was recorded second, after 'Four To Doomsday', in this season's run. It is noted that Michael Robbins thought that this was his worse job although I have to confess I was rather impressed by him and his voice.
For the extras, the first 27 minutes is given over to director Peter Moffatt (he points out that his surname has a different set of letters to Peter Davison's real name) and the 5 stories he did for 'Doctor Who'. He also holds the distinction of having directed 5 of the original actors who played the Doctor.
From there, 'Scoring The Visitation' has 16 minutes with Mark Ayers interviewing composter Paddy Kingsland about his musical cues. The biggest lesson is that there is always music over reprieves at the start of episodes, often re-written to match a shorter version.
The 5½ minute 'Film Trims' is a combination of takes and some of the mute scenes used for the TARDIS monitor. Finally, a 'Writing The Visitation' has an interview with scriptwriter Eric Saward as he moved from radio to TV. Most notable is the change of Doctor and an extra companion in Tegan during the planning stage which shows how far ahead they were thinking.
GF Willmetts
January 2018
(region 2 DVD: pub: BBC. 1 DVD 93 minutes 4 * 24 minute episodes with extras. Price: about £ 2.00 (UK) if you know where to look. ASIN: BBCDVD1329)
cast: Peter Davison, Janet Fielding, Sarah Sutton and Matthew Waterhouse
Category: Doctor Who, TV
Geoff Willmetts has been editor at SFCrowsnest for some 21 plus years now, showing a versatility and knowledge in not only Science Fiction, but also the sciences and arts, all of which has been displayed here through editorials, reviews, articles and stories. With the latter, he has been running a short story series under the title of 'Psi-Kicks' If you want to contribute to SFCrowsnest, read the guidelines and show him what you can do. If it isn't usable, he spends as much time telling you what the problems is as he would with material he accepts. This is largely how he got called an Uncle, as in Dutch Uncle. He's not actually Dutch but hails from the west country in the UK.