Category: GENRE
The SF novel Dreams Before the Start of Time by Anne Charnock (published by Amazon's 47North imprint) is the 32nd winner of the Arthur C. Clarke Award, one of the main UK prizes for science fiction literature. The winner was announced Wednesday 18th July at a ceremony held at the Foyles flagship bookshop on Charing […]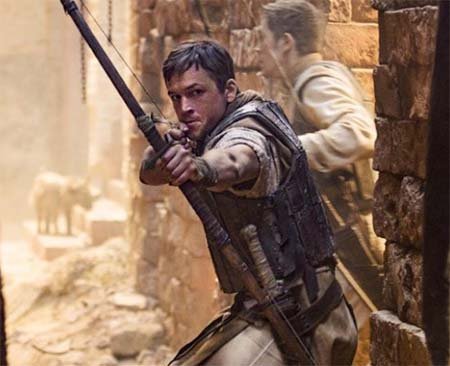 Here's the new trailer for the new Robin Hood movie from Lionsgate with Taron Egerton wearing the hooded one's mantle and Jamie Foxx as his chum back from the Crusades.
Here's the second trailer for the reboot of the Predator movie coming in 2018.
Another horror zombie type-movie, Patient Zero, where a pandemic turns the majority of humankind into violent "Infected," and a man gifted with the ability to speak the Infected's new language (Matt Smith) leads the last survivors on a hunt for Patient Zero and a cure helped by a scientist played by Natalie Dormer. Stanley Tucci plays […]
Tov Matheson is a war veteran with PTSD (post traumatic stress disorder) who perceives that the end of the world is coming. After establishing a relationship with a dubious Messiah, he leaves his normal life and begins the construction of a shelter underground, training himself, in an extreme way, at the cost of losing everything […]
Here's a little teaser trailer for the Stranger Things 3rd season, in which things go all retail with the introduction of a fab new mall to the town with many dark secrets, Hawkins. 
Shortly after the Soviets put in space the world's first man-made satellite, Sputnik I, Roger Corman produced and directed a very low-budget SF film to exploit the recent real-world launch. Aliens have put up an invisible barrier to prevent humans from advancing into space. The acting and writing are inconsistent but perhaps just because it […]
For the first time ever, scientists using NASA's Fermi Gamma-ray Space Telescope have found the source of a high-energy neutrino from outside our galaxy. This neutrino traveled 3.7 billion years at almost the speed of light before being detected on Earth. This is farther than any other neutrino whose origin scientists can identify. High-energy neutrinos […]
I was initially unsure why we were sent this novella by James Patrick Kelly to review as its been out for quite some time now. It was first published in hardback format in November 2005 and was a Nebula Award winner. A little bit of digging uncovered that the people at Tachyon Publications are now […]