A Pictorial History Of Science Fiction by David Kyle (book review).
One thing you can say about David Kyle(1919-2016), he was an expert on SF. Quite why I didn't buy his 1977 book 'A Pictorial History Of Science Fiction' at the time, I'm less sure about. My home town is a sleepy place and although he shows several books about SF in his introduction that I've only now bought two of them. Not that I didn't know Kyle's name. After all, I had bought his two novels that continued the adventures of EE 'Doc' Smith's Lensmen stories. Checking Kyle's history, he was actually living in the UK, although American  by birth, when he wrote this book.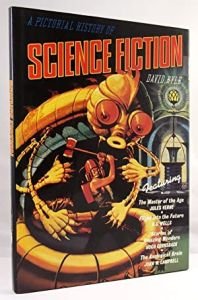 One thing that is obvious, this is a very large book and the first of two SF books Kyle wrote for Hamlyn, a publisher known for large illustrated books. It is loaded with woodcut-like illustrations from the earlier period of SF, going way, way back before building up to Mary Shelley, Jules Verne and HG Wells, hitting on minor authors along the way. Thinking back over 45 years, if I had seen it, I would have bought it but as rural bookshops had only a couple copies each of big books, no doubt other SF fans in the area got there first. It would certainly have been seen as too big to bring back had I seen it in my odd travels to carry home.
Kyle makes a strong point of SF being world-wide in his opening chapters and the likes of 'Black Cat' and 'Argosy' magazines being there long before Gernsback. Something I haven't seen before is Jules Verne talking about himself and HG Wells and then found myself putting it in modern day terms. Verne was very much what we would call a hard SF writer, using only what was available and querying Wells' fictional Calvorite in 'First Men On The Moon'.
As Kyle points out Wells knew more proper science than Verne but under today's heading, Wells was essentially using one significant fudge in a story to make it work. With Calvorite, I tend to think it's the application of some new discovery which is still scientifically what we would do with any new discovery. One can see similar thinks from EE 'Doc' Smith's 'Skylark' stories and Dick Seaton's discovery of 'element X' which is used to propel their space vehicles. In SF, it is the application of science than purely creating a scientific law that is most important.
Even when Kyle reaches the chapter that includes Hugo Gernsback, that decade covers a lot of other publications from that period. Interestingly, when it comes to Gernsback's character, Ralph 124C41+, try saying his surname backwards. Interestingly, the rocket man on the Frank R. Paul cover for the first issue of 'Amazing Stories' isn't actually Buck Rogers but from EE 'Doc' Smith's 'The Skylark Of Space', so must actually be Dick Seaton.
What can't be denied was 1926-1936 was one of the most prolific periods in SF in the USA. Kyle makes a good point that a lot of people with Gernsback were older editors and were giving way to the younger editors elsewhere. The younger blood also included the likes of EE 'Doc' Smith, Olaf Stapleton and Aldius Huxley. Reading between the lines of what Kyle wrote, the reasons for a diversity of writers was less about making money but to explore their imaginations and, as with Stapleton, to really look at a bigger picture of the cosmos and time. Of course, things were also leaping out in the cinema and newspaper strips with 'Metropolis' and 'Buck Rogers' and 'Flash Gordon' and catering to all types of audience. Of course, everything developed in the next decade and the Golden Age of SF got started in earnest.
Going up through the decades, you do get a lot more history and how SF spreads through the media. There's a lot of illustrations here and there's a fair bet that Frank R. Paul probably had the biggest influence on graphic SF.
Kyle's take on the rise of fandom does tend to overlook one thing. Unlike other genres, SF writers tend to rise through the ranks of fandom and amateur magazines, so you can see them being developed. That's not to say writers don't come from other sources but the most important early SF authors certainly came up that way. Our genre was still nascent back then and gaining its identity, as can be seen as films and TV brought SF to life at various prices. The three main authors who had two or more films each made from their books were HG Wells, George Orwell and John Wyndham which should speak for itself.
In his final chapter, Kyle points to various authors and their thoughts on what is actually SF and should be used as a reminder that modern SF is forgetting and now coasting. Asimov saw SF as showing the effects of change. John Brunner said new authors were attracted to SF imagery than any associated science. Obviously there's room for all types of authors but look at how much of it has now become acceptable tropes without questioning or changing its status quo.
Arthur Clarke also thought SF was standing still. I think we do need to remind ourselves that SF doesn't need to be safe. So, it there's anything to learn from this book some 40 years later is we need to push SF to take risks.
GF Willmetts
April 2021
(pub: Hamlyn, 1977. 173 page illustrated indexed very large hardback. Price: I pulled my copy recently for about £ 7.00 (UK), original price was £ 3.95 (UK). ISBN: 0-600-38193-5)