Don Lawrence: Illustrators And Comic Strip Art: An Illustrators Special #3 (book review).
I'm beginning to feel old when I say you have to be a certain age to remember British comicbook Don Lawrence (1928-2003). If I say 'The Trigan Empire', you should suddenly say, 'Oh, that's the artist', then you should make the connection. Looking at his career in this third special from The Book Palace, 'Don Lawrence: Illustrators And Comic Strip Art', you'll see that he did a lot more than that.
Even more remarkable, according to writer Steve Holland's text, he admits to never getting the hang of drawing from reference and mostly made up as he went along. I added the 'mostly' because looking at some of his historical material, he must have used some sort of reference at some point. He was always good at art but didn't fall into illustrating until nearly completing art school. When he once made a mistake with colour on one comic-strip, no one believed he could paint until a second opportunity arose and the rest, as they say, is history.
When you see his work here, you'll realise he also drew 'Marvelman'. He even painted 'Fireball XL5' for a while but couldn't get a handle on the puppets. I wonder if it would have made any difference had he looked at how Mike Noble did them. In case you thought he wandered off the map later in his career, much of his time was spent illustrating Dutch comics, where he won several awards over the years.
Seeing his work here is simply jaw-dropping and for someone who thinks he learnt literally on the job. Looking at his horses, which Lawrence says he stylised rather than paint accurately, I would say he had the most problems with the horse's hindquarters as they look stiff but that comes largely from seeing so many in this book.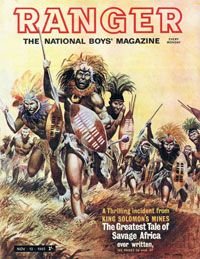 Don Lawrence also points out that he actually preferred fantasy than reality when it came to subject matter as he could just invent. However, the diversity as shown in this book shows he could tackle any genre providing he had enough interest in it and he was paid. Lawrence makes his art look easy but you only see the end product and it's a lesson in composition to stare and gape at his work.
Three quarters of this book shows his work illustrating westerns, bible stories and even the likes of Pinocchio, all accompanied by the text stories. I have to confess to staying focused on the art because that's really what I wanted to look at but when you combine the two together you will have a lengthier read and see how Lawrence picked out what he needed to work out his illustrations.
For those of you new to Don Lawrence's work, then you're in for a treat. I did look around on-line to see what is available and the mostly Dutch reprints can be on the expensive side and even my 1978 volume of 'The Trigan Empire' has a high price tag but who knew back then it would become that collectable. If you own his books then they tend to say 'got' which tells its own story, people don't want to part with them. This book is also limited to 1000 copies so you might need to get a move on in ordering a copy. Have I gushed enough?
GF Willmetts
July 2018
(pub: The Book Palace, 2015. 98 page illustrated squarebound magazine. Price: £25.00 (UK), $21.99 (US). ISBN: 978-1-907081-77-4. ISSN: 2052-6520)
check out website:  http://www.bookpalace.com