Beauty And The Beast (Le Belle et Le Bete) (film review by Frank Ochieng)
It seems as if big screen dueling cinematic fairy tales are the trend within the last few years at the box office. Back in 2012 movie audiences were bombarded by the 'Snow White' avalanche when filmmaker Rupert Sanders's 'Snow White And The Huntsman' had the share the releasing spotlight with director Tarsem Singh's 'Mirror Mirror', although Singh's whimsical narrative had the head start in hitting the movie theaters first by a mere two months. Now, in skipping ahead four years later, we seem to have a repeat performance with another classic tale involving youthful fairy tale femininity as the focus shifts to the 'Beauty' from Jeanne-Marie Laprince's 'Beauty And The Beast' (or for the French-speaking movie-goers 'Le Belle et Le Bete'). In 2016, Tco-writer/director Christophe Gans's ('Brotherhood Of The Wolf", 'Silent Hill') 'Beauty And The Beast' makes its lavish entrance into the movie mindset of viewers waiting to see what amounts to be another stagy screen adaptation of Laprince's vintage and unconventional fairy tale romancer. Bill Condon's musical film version of 'Beauty And The Beast' will makes its entry a few months later in March 2017.
No doubt that Gans's French live-sction version of 'Beauty' has a breathtaking visual vibrancy to its opulent production. Plus, it certainly does not hurt the polished product when the film features a couple of France's big-time smooth cinema stars in leads Vincent Cassel and Lea Seydoux. In any event, 'Le Belle et La Bete'/'Beauty And The Beast' was originally produced in 2014 so now it is making the rounds to the U.S. shores and elsewhere. As imaginative and sleek that Gans's colorful showcase is in its elegant presentation, the film fails to offer anything dramatically darker or delirious that dares to separate any distinction from past interpretations of this famously familiar story for the ages.
The sentiment has always been realised that if you are going to regurgitate epic fairy tales that have been done countless times over with richer reception then your current installment, better bring something more stimulating and introspective to the creative table for feasting. For the longest time Disney, in particular, had the notable monopoly on the animated musical 'Beauty And The Beast' from the early nineties. Also, Jean Cocteau's nostalgically hypnotic 1946 fantasy offering still manages to resonate as well. Somehow Gans's elaborate and eye-popping take on the photogenic cutie and the misunderstood creature does not quite translate or connect beyond its obvious sumptuousness. Beauty and the Beast, at least in modern-day and future outings, should strive to the accountability of being more than a serviceable non-traditional love story saddled in sparkling trivialities.
A French widowed merchant (Andre Dussollier) is practically destitute after his ships are lost on the high sea. So the bankrupt family man of six children packs up and moves to a quaint  countryside home to try and reclaim his chaotic life. His absent ships are not the only thing that is considered lost as his brood of problematic offspring are a handful. However, the one bright spot out of the unruly bunch is youngest daughter Belle (Sedoux, 'Blue Is The Warmest Color'). Whereas, Belle's dissatisfied siblings are not thrilled with the relocation and overall less-than-stellar circumstances she in fact is taking a positive approach to the land and her father's unsettling situation at hand.
Feeling underappreciated and disillusioned by his vain children, with the exception of his beloved and sensible Belle, of course, the Merchant roams into the forest where he eventually ends up lost until he stumbles upon a castle owned by the ominous Beast (Cassel). The Merchant decides to take a gorgeous red rose from the property as a kind gesture to give to his only grateful child Belle. However, the Merchant absconding with the red rose did not quite sit right with the retaliatory Beast. This treasured red rose is the symbolic reminder of the Beast's cherished late wife. As a result, the Merchant must pay the ultimate price in the eyes of the demanding Beast by holding him for rightful compensation. Specifically, the Merchant must be in life-long servitude to the fearsome Beast as selected punishment. Should the Merchant not comply with his indefinite servant role then the Beast promises to eradicate his entire family. Yikes!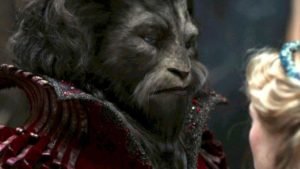 Thankfully, the Merchant is given one day off from the Beast's clutches to inform his selfish-minded children of his dilemma at large. When the Merchant says his last goodbyes to his family, a concerned Belle gets word of her father's inescapable fate. Feeling guilty and somewhat responsible as the recipient of the so-called forbidden red rose, Belle rushes over to the castle and offers herself as a suitable replacement for her father's harsh sentence as the Beast's human piece of property. Fortunately, the Beast accepts the swap as Belle is allowed to assume her father's servicing duties. Thus, Belle benefits from the Beast greatly as he occasionally spoils her with pretty outfits and lets her enjoy the castle's majestic surroundings, a far cry from where she hails from domestically. The stipulation is that Belle must have a mandatory dinner with the Beast each and every evening. Otherwise, the co-existence between the duo is solid and non-confrontational.
Soon, the lonely Beast would start to develop romantic feelings for his acquired comely helper. At first, Belle is repulsed by the fact that her hideous-looking overseer would dare to suggest that his heart yearns for her especially when this seemingly corrosive creature had her father and currently now her in a reluctant arrangement to serve his anti-social, personalised needs. Belle eventually realises that the Beast is rather intriguing to her and not as sinister as she first imagined. Their bond tightens as the days go by and Belle cannot help but dream about how the Beast came to be from ages ago. Surely he must have been captivating in his regal heyday and stylised existence despite whatever heavy-handed pathos that had destroyed this once passionate soul. Clearly, the Beast is in search of true love and companionship, so the golden question remains: can Belle be the beauty that finally eases his inner pain and comes to the rescue of his empty heart?
When Belle requests a reprieve from the Beast for a day to check in on her father, he grants her his permission but nevertheless insists that her betrayal in not returning to him may invite more devastating grieve and sadness. Surely, Belle does not want the Beast to be overcome with wrought based on her potential deception. It does not get any easier when Belle learns of her riff-raffish older brother and his crew that are planning on raiding the castle and killing the Beast in the process of stealing all his wealthy possessions. Naturally, Belle's love and attraction for the Beast is set in stone as she cringes at the potential harm her misguided family has on the mind to lift his riches and end his life. Will Belle's deep-seeded affections for the Beast be enough to prevent her wayward clan from harming a hair on her beleaguered suitor's hunted head?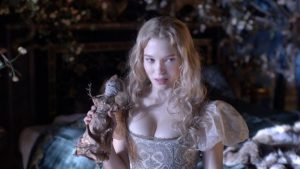 Gans skillfully deploys the showy special effects techniques that give glorious sheen and wonderment to this French fantasy trying to invigorate a sense of surreal romanticism. Indeed, 'Beauty And The Beast' boasts a robust landscape riddled with its telling brand of atmospheric charm and escapist curiosity. Besides, a French-made re-imagining of this glossy folktale should scream volumes of a dream-like aura that paints an alluring picture. Although Gans strikes a boisterous balance in conveying his exposition with the gumption of a rousing spectacle worthy of its welcomed glitter, 'Beauty' still feels rather distant and incomplete without adequately generating any substantive chemistry between its lovelorn leads.
Individually, both Seydoux and Cassel bring a refreshing vitality to their suffering characterisations. Cassel's Beast is effective as the languishing, wounded wonder imprisoned by his past emotional demons while Seydoux's Beauty/Belle demonstrates a feisty heroine not afraid to embrace the loveliness of her persona. But Gans fails to provide any consistent rapport between Seydoux and Cassel collectively as they share awkward dinners and matter-of-fact conversations that do not seem to register with much gusto. Seydoux's Belle aimlessly parades around in designer dresses as Cassel's beastly kidnapper methodically pines for his curvaceous captive. In fact, Cassel's Beast has more romantic reverence in flashbacks towards his departed wife than he does in contemporary times with his desired Belle. When the third act involves Belle's villainous brother and the plot to ruin the Beast's livelihood, the film turns into a recycled revenge period piece that places more emphasis on the Beast's periled predicament than the intended juicy love story between a mismatched pair of lovers building a tenet of belonging.
Gans and co-writer Sandra Vo-Anh deliver a 'Beauty' of a package that befittingly wallows in the shadows of previous 'Beast' editions. This fairy tale falls short of its entertaining goal despite its pleasing, tangy wrapping.
Beauty And The Beast (La Belle et La Bete) 2016
Shout! Factory Films
1 hr. 48 mins
Starring: Vincent Cassel, Lea Seydoux, Andre Dussollier, Eduardo Noriega, Audrey Lamy, Myriam Charleins, Nicolas Gob, Jonathan Demurger, Yvonne Catterfeld, Louka Meliava and Sara Giraudeau
Directed and Co-Written by: Christophe Gans
MPAA Rating: PG-13
Genre: Fantasy and Romance/Sci-Fi/Mystery and Suspense
Critic's Rating: ** stars (out of 4 stars)
(c) Frank Ochieng (2016)