Monster Blood Tattoo Book Two: Lamplighter by D.M. Cornish (book review).
'Lamplighter' is the second book in the 'Monster Blood Tattoo' trilogy. In 'Book One: Foundling' we followed hero Rossamünd Bookchild as he left the orphanage where he grew up and set off for the lamplighter headquarters at Winstermill but was delayed by various mishaps and adventures. Finally, he has arrived.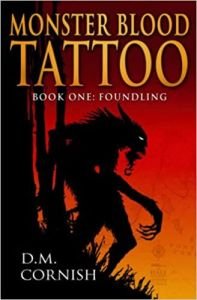 Apprentice lamplighters receive four months training before beginning the dangerous work of tending lamps along the roads of the empire to light the way for humans through territory full of dangerous monsters. Humans share the world with a huge variety of other creatures. Large ones are called bogles and small ones are nickers. All are enemies to man and to speak well of any such creature is to risk condemnation as a sedorner, which usually carries the death sentence.
To Rossamünd's secret shame, he has found that some monsters are not so terrible and one, a nicker called Freckle, even saved his life. He keeps carefully silent about this, especially as monster attacks are increasing across the land and the lamplighters are suffering heavy losses. They have even hired teratologists, mercenary monster hunters, to help at some stations.
All is not well at Winstermill. The training is efficient and Rossamünd respects his immediate superiors, experienced lamplighters all. He likes the esteemed Lamplighter-Marshall, too, a kindly old battle veteran. Unfortunately, between the great man and the lower ranks stands the Master-of-Clerks, one Podius Whympre, who seems to require an ever-increasing number of staff to generate more and more paperwork so that the Lamplighter-Marshall is snowed under and barely able to function. Whympre is slowly taking control of Winstermill for his own ends and has several dubious allies, including a surgeon.
As a fresh apprentice, Rossamünd is the lowest of the low and can't do much about his superiors' troubles. He has enough of his own. But he has friends. Threnody is a young lady of noble birth, the first female lamplighter apprentice. Her mother is ruler of a clave of calendars. These are women of rank with money, clout and a social conscience who go out into the world to help those less fortunate than themselves. Like the famous monster hunter Europe, Rossamünd's ally in book one, Threnody is a fulgar, surgically altered to have special abilities, but unlike that capable and deadly woman, she is young and untrained.
There are a thousand details of the imagined world that can't be covered in a brief review but rest assured that D.M. Cornish has created here a rich, well-realised fantasy setting to match anything out there and provided illustrations and maps to show it. This is even better than the first book, which I thoroughly enjoyed. Several of the characters from that one reappear here and are developed further, as is Rossamünd. Many new personalities are introduced, some likeable, some villainous.
In parts, there is much lush description of the landscape, too, beautifully written, but it doesn't slow the action. Rossamünd continues to do his best and discovers that he can do some things very well. The story climaxes on a high note with all the main characters gathered in a confrontational setting and ends with an unusual resolution that paves the way for book three, 'Factotum'.
It's a wonderful tale, a terrific read and might become a classic. Oddly, the guidelines say for readers age 9-11 but that's a ludicrously narrow scope. Sure, there are dozens of unusual words as part of the fantasy setting, all explained in the text, so it might be a struggle for very young readers but certainly, teenagers should like it and plenty of adults, too. After all, 'Lord Of The Rings' is a children's book and has something of an adult following, as does Harry Potter.
This is another timeless tale of heroism and adventure. I haven't been eleven for fifty years but I loved 'Lamplighter' and intend to get on with the next book ASAP.
Eamonn Murphy
October 2021
(pub: Penguin Young Readers, 2008/2014. 711 page enlarged illustrated paperback. Price: $19.99 (US), $22.00 (CAN). ISBN: 978-0-399-24639-5)
check out website: www.penguin.com, www.monsyerbloodtattoo.com and www.dmcornish.com