Hell's Bounty by Joe R. Lansdale and John L. Lansdale (book review).
'Hell's Bounty' is a book with a chequered history! The copy I received from the SFCrowsnest review stockpile was the original Subterranean Press paperback edition, which is now long out of print. Since then, Short Scary Tales Publications in the UK, picked it up, but again it went out of print.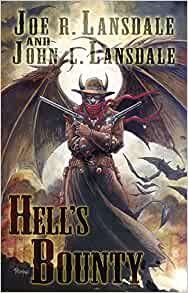 Now it has yet another new edition due soon from BookVoice Publishing and they were kind enough to send me a .pdf copy for comparison purposes. As I was informed by the publisher, it's the same text as the Subterranean Press edition, bar the odd error correction. Hopefully, this one will stay in print a bit longer than the previous editions.
The book opens with a brief introduction to the villain and his encounter with the dark forces. It's a classic horror story trope for a reason, it works. Then we are introduced to our anti-hero, Smith. You can't escape the strong Clint Eastwood/Spaghetti Western influence at work here.
Just like Eastwood in those classic movies, Smith proves himself to be an uncannily fast draw…and something of a dick! Eastwood's 'man with no name' was never a particularly nice guy, but Smith seems to care little about anything or anybody other than his bounty. When he takes the bad guy's horse, he's doing it more to be annoying than any sense of righteousness.
Just when you think he's going to continue with his mean, but amusingly cool ways, a stupid misjudgement puts an end to his life.
I suspect many might consider that too much of a spoiler, but please note this is the introductory 'Part 1', which takes up around ten full pages of text. Then the story really begins.
In Part 2, Smith wakes up in a very different saloon, this one much swankier, if weirder. As plush as it looks, the odour of the place is not so pleasant and its patrons don't appear to be in the best of condition.
The authors manage a fun mix of gore and humour here as Smith, now put back together and actually in better condition than he had been in a decade, is made an offer: either face the same fate as the somewhat worse for wear patrons, who are dragged through a door by tentacles or do what he did best, but this time for his host, who chooses to go by the name of Snappy.
It appears that one of his subordinates has rebelled and is looking to free 'The Old Ones', who ruled before Snappy & the unnameable 'Him' took the reins. I rather liked the idea that Lovecraft's Old Ones actually pre-dated God and the Devil.
Smith, returned to Earth a year after his untimely death, finds himself in the middle of a pitched battle between a few of the residents he met before and a large group of undead cowboys. His new guns, supplied by Snappy, prove to be devastatingly effective here, albeit, when he needs to stop and reload he does have to be saved, ironically by a woman he'd not been bothered to save a year before.
The battle is classic pulp mayhem, told with the Lansdales' tongues firmly in their cheeks. If I had one complaint it's that the first time he shoots one of the cowboy ghouls, it takes a minute before the silver bullet causes him to fall apart. Every other time from that point on, it's pretty much instant. It's such a common lapse of logic in pulp horror that I'm almost convinced it was intentional on the part of the authors.
Part 4 sees Smith set off to force the big bad out in the open, so he can take him down. We're at around the half-way point here, so you can guess that doesn't go quite according to plan. Nevertheless, Smith escapes and, realising that he can't win this battle alone, starts to build his team. The pace really picks up here and the Lansdales' skill at blending western and horror tropes seamlessly into one gripping adventure is very impressive.
The final two parts are fast-paced and engrossing. Things, as any fan of this sort of pulp adventure would expect, get worse before they get better and the ending is as exciting as you'll find anywhere. The postscript sets things up for a very different sequel, which so far has not been forthcoming. Let us all hope that situation changes.
I'd been a fan of the work of Joe R. Lansdale for a few decades, but before receiving this book, I wasn't even aware of his older brother, John L. Lansdale's existence. I certainly have every intention of investigating his work further.
Dave Brzeski
October 2021
(pub: Subterranean Press. 190 page. Original Price but now out of print: $40.00 (US). ISBN: 978-1-59606-745-5)
(pub: Book Voice Publishing. 198 page ebook: Price: $ 7.99 (US), $ 9.99 (CAN), £ 6.99 UK/EU. 198 page paperback: Price: $14.99 (US), $19.99 (CAN), £12.99 (UK/EU)
check out website: https://www.bookvoicepublishing.com/