Call Of Duty: Black Ops II Original Soundtrack by Jack Wall (album review)
The main theme is composed by Reznor, giving the soundtrack a bit of name value but aside from the opening track which is pretty amazing and the orchestral version of it, the majority of the album is written by Jack Wall. Mozart's 'Symphony No. 40 In G Minor' does also feature at the mid-way point but I'm guessing he didn't have the game in mind when he composed it.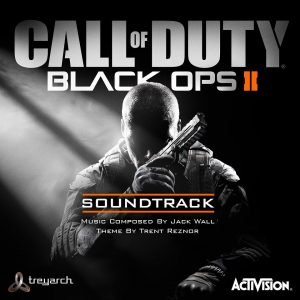 Despite the violent nature of the game, there is actually something here for most listeners. 'Flying Squirrels' and 'Future Wars' give a great industrial dance vibe while 'Desert Ride' provides us with some Eastern flair. 'Niño Precioso', featuring Kamar de los Reyes, is an interesting interlude that I'm sure makes sense in the context of the game but is nonetheless welcome on the soundtrack with sorrowful lyrics and Spanish guitar.
Towards the tail end of the album, it does get a little repetitive but in fairness, each track does have a little something to make it unique, and given it's a shooting based game, it has to be full of fast, heavy bass rather than light and fluffy. After listening to the album all the way through, it's probably best to go for a walk to calm things down.
At two and a half hours long, there's plenty of bang for your buck and fans of the 'Call Of Duty' franchise certainly won't feel short-changed.
Aidan Fortune
February 2013
(pub: Activision/Treyarch. 49 tracks, 149 mins MP3: $ 9.99 (US), £ 5.99 (UK). ASIN: B009XAVIUO)
check out websites: www.treyarch.com and http://www.activision.com/atvihub/home.do