Harley Quinn Vol. 5: Vote Harley by Amanda Conner, Jimmy Palmiotti, John Timms and Alex Sinclair (graphic novel review).
With a title like 'Vote Harley', it's a sure bet who has entered the race to become New York's mayor. When Harley Quinn hits hard at the local crime scene, it all leads back to the mayor's office and she is determined to kick him out the legal way and his illegal operations with him. Thing is, Mayor DePerto and his right-hand person, Madison Berkowitz, play dirty. Using the Scarecrow to give Harley hallucinations in a public debate has the reverse and sympathetic effect so they go after her lover.
She has to call on members of her own gang and well…definitely spoiler. So is the aftermath, hence a smaller precis than usual.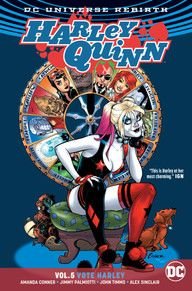 Although this version of Harley Quinn isn't as psychotic as her predecessors, she sees her parents for the Illuminatti's sake, element of the stories are like an extreme soap story which tends to propel you to find out what happens next.
It looks like there are at least 2 or 3 volumes to get right up-to-date, but you do have to wonder how long it will take for this Harley Quinn to go right over the edge rather than have downtime to get over trauma and remind people she is a dangerous psychotic.
GF Willmetts
December 2020
(pub: DC Comics, 2018. 168 page graphic novel softcover. Price: I pulled my copy for about £10.00 (UK). ISBN: 978-1-40127-882-3)
check out website: www.dccomics.com