'Age Of TV Heroes' by Jason Hofius and George Khoury is a book I've been really looking forward to reading. With the opening chapter, the most startling thing was to realise how many TV pilots over the decades that were filmed with super-heroes but were either not shown or if they were, not getting a video or DVD release. Even if they were bad, it would be of historical interest to see the attempt to understand why they didn't work first hand. A lot of the time, this can be put down to budget. SF on TV is effects expensive and this is even more so with super-hero activity which is essentially what the viewing public wants to see. With the current super-hero films showing what can be done on a high budget, TV is going to take some time to properly catch up, although 'Smallville' came pretty close. Bearing in mind how over a few years the price of effects has dropped then although it won't equal, is likely to get closer to the movies.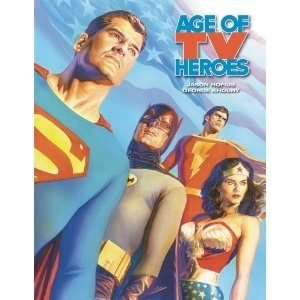 With fourteen chapters looking at particular heroes, there's surely enough for everyone here to spot your favourites. Mind you, considering that that the super-hero water-skiing is included, check the title, it is the age that they were in, not necessarily on the box. There are a stack of colour photos for all of them as well to match the text assessing how these shows went. I should also point out that this book was released in 2010 so although 'Smallville' does have a section, it does not reach its ending.
There's a lot you can learn here. Some of which I didn't know. For instance, Adam West got the Batman role because he played a comedic James Bond in an advert. Linda Harrison – she from the first two 'Planet Of The Apes' films – played Wonder Woman in a failed pilot. It was also a demonstration that show-runners at the time didn't really have a handle of how to put a super-human into a real world context. Moving later to the Lynda Carter version, her stunt double Jeannie Epper's contribution ensured that there was a place for a stuntwomen union and more work for female stunting.
It's interesting reading about the Japanese version of Spider-Man that was only loosely based on the American original and see he also controlled a transformer. With the Incredible Hulk chapter, I'm glad they noted and showed ol'greenskin wearing his green slippers when he invaded New York. Seeing a still of Lou Ferrigno with his stunt and Bill Bixby's stunt double is also a sharp reminder of what an amazing selection of photos there are in this book that I hadn't seen before, as well as some of the more traditional stock photos. Having them collected into one book just makes it more convenient.
I can't ever recall 'Swamp Thing' being shown over here so learning more about the series was interesting. If you want to see if you can catch your friends out, the odd one in this book is 'The Greatest American Hero' as he wasn't a comicbook creation first. Another series that never got an airing over here.
If it wasn't for the increasing number of super-hero films being released which means multiple volumes, then we surely need a similar book devoted to them as well with a similar display of photos, although I expect the expense of photos copyright would make it prohibitive. In the meantime, ensure you chain, place kryptonite or cast magic spells to ensure this book stays on your coffee table because all your friends are likely to pick it up and browse, stir memories and want to borrow…just for a look. Tell them to buy their own copy as you wallow in your own nostalgia. A great book.
GF Willmetts
April 2013
(pub: TwoMorrows Publishing. 191 page illustrated large hardback. Price: $39.95 (US), £25.49 (UK). ISBN: 978-1-60549-010-6)
check out website: www.TwoMorrows.com
Geoff Willmetts has been editor at SFCrowsnest for some 15 plus years now, showing a versatility and knowledge in not only Science Fiction, but also the sciences and arts, all of which has been displayed here through editorials, reviews, articles and stories. With the latter, he has been running a short story series under the title of 'Psi-Kicks' If you want to contribute to SFCrowsnest, read the guidelines and show him what you can do. If it isn't usable, he spends as much time telling you what the problems is as he would with material he accepts. This is largely how he got called an Uncle, as in Dutch Uncle. He's not actually Dutch but hails from the west country in the UK.