Voyage Of Time: The IMAX Experience (a film review by Frank Ochieng)
Filmmaker Terrence Malick has always harboured the meditative and naturalistic nuances that seem to resonate so forcefully in his themed narratives. Malick's movie-making consciousness and captive consideration for the visual sumptuousness of his brand of landscape cinema feels like a conventional tool for his sort of sweeping storytelling in method and styling. Well, 'Voyage Of Time: The IMAX Experience' certainly fits the bill when entertaining the filmmaker's quest for his take on presenting the history of the world in a 45 minute documentary that is noteworthy in stimulating, eye-popping wonderment and speculative forethought.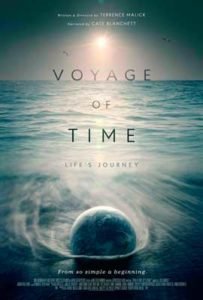 No doubt that Malick's imaginative, succulent and hypnotic 'Voyage Of Time: The IMAX Experience' has convincing and concentrated scope as it explores the elliptical elegance through the realm of the natural world's conception of creation. The exposition indeed is minimal in time but feels grand and inviting as it is reminiscent of a cryptic, scientific global field trip en route to The Museum of Science for soul-searching self-discovery. Malick's 'Voyage Of Time' is a metaphysical feast for the eyes and an absorbing invitation for embedded curiosities and uncertainties.
There are various degrees of lyrical layers that define a Malick-oriented artistic vehicle that strives to showcase an instinctual aura for a colourful canvas of a nature-driven opus. The writer-director's lavish filmography have been rewarding spectacles that pitted his characterisations and plot-lines against picturesque projects that include 1973's 'Badlands', 1998's 'The Thin Red Line', 2011's 'Tree Of Life', 1978's 'Days Of Heaven', 2005's 'The New World' and 2012's 'To the Wonder' just to name a few features that justifies Malick's creative and collaborative tastes for majestic, scenic and glossy showcases. Indeed, 'Voyage Of Time: The IMAX Experience' may have its questionable designated ranking in terms of where it fits into the evocative portrait of Malick's stable of narrative gems saddled with vibrant visuals. Still, the formula manages to hold its own in 'Voyage' as Malick challenges our personal journeys to seek out collective truths in what we inherited as a beautifully crafted world in an IMAX documentary that is spellbinding in its brief boundaries of screen time.
In true fashion, Malick serves up two dependable components in his trademark exposition: the allurement of nature and narration. In this case, Malick taps Hollywood hotshot Brad Pitt as the polished presentation's narrator whose flowing voice-over delivers the dutiful task of playing tour guide for the indescribable planetary and galactic gazing of the breath-taking imagery that persists on the widened IMAX screen. It is a larger-than-life experiment that feels quite transfixing when it exposes its momentous helpings of scientific scenery that only an IMAX backdrop can accomplish to delve into Malick's elaborate world-forming vision. The invigorating attempt to address the beginning of the cosmos on the big screen is a resourceful gesture and Malick ensures that his cinematic research is stamped with authenticity as he involves experts skilled in natural history, NASA consultation and, of course, special effect demonstrations that bring us what the Earth's formations would have developed into from the theological frames of time, space, nature and yes…the rise of mankind and the mighty creatures (dinosaurs, in particular) that once ruled the planet without early man's stronghold, destructive taming or technological intrusions.
Some may get the uneasy feeling that 'Voyage' may be nothing more than a glorified, preachy on-screen science project on display. However, Malick's philosophical and exploratory story of our worldly existences in life forms, powerful land masses and space odysseys should not be dismissed as merely a celluloid earth general science homework assignment for viewing. Malick's foray into inquiring from Homo sapiens to revealing fossils from the Earth's valued soil to the evolution of our planet's animal species both monstrous and meek to the miraculous configuration of massive land structures and oceans and yes…the mysteries of the encompassing galaxies that still arouse our fears and fascination are convincingly compelling and show an in-depth appreciation for the gained acknowledgement of our complex yet intriguing planetary surroundings.
Sadly, the fragility of humanity is on the brink of destruction in a deluded contemporary world laced with the poisons of cynicism, distrust, perversion and inhumane deterioration. Thankfully, 'Voyage Of Time: The IMAX Experiment' is a critical reminder that our amazing start pertaining to the gift of life is grounded in the preciousness of our understanding for inheriting the aforementioned mysteries of physical existence and planetary purpose. However, the inevitable end of mankind's meandering madness in today's toxic climate threatens to pollute Malick's 'Voyage' existential interpretation for the nature-inspired beauty that emerged from the early civilisations of time and space. Whether you are a committed tree-hugger or techno-titan at large, one thing is definitely clear, Malick's adventurous 'Voyage' is worth exploring with a conscientious compass at the environmental hip.
Voyage of Time: The IMAX Experience (2016)
Length of time: 45 mins.
Narration by: Brad Pitt (Cate Blanchett in the longer, standard-format version)
Written and Directed by: Terrence Malick
MPAA Rating: G
Genre: Documentary/Science and Nature
Critic's rating: *** stars (out of 4 stars)
(c) Frank Ochieng 2016