The Top Ten American SF/Fantasy TV Catchphrases
We all have our chosen preferences when it comes to embracing our favorite SF/Fantasy shows and the characters that are featured on these said shows. Certainly, Americans had their fair share of memorable SFand fantasy programming and the fictional personalities that brought these showcases to pop culture prominence.
Now speaking about American SF/Fantasy shows and their featured characters that draw in the TV viewership we need to understand the appeal that is involved in why we care about these small screen wonders in their comedic and dramatic foundations? Well, one of the striking elements that define a character within the SF/fantasy stratosphere is the catchy verbal gimmick known as the catchphrase. Catchphrases are an extension of the character's off-handed quirks, philosophical stance or sense of purpose.
The Top Ten American SF/Fantasy TV Catchphrases selections below will be in alphabetical order according to the TV show title:
1.) 'You rang?' (Lurch) from 'THE ADDAMS FAMILY'
'The Addams Family's monstrous seven-foot butler Lurch (actor Ted Cassidy) was a man of a few words. He was every bit a walking oddball much like his employers in the Addams clan.  What made the tall yet not-so-terrorising Lurch an endearing specimen whenever he was called into service by Gomez, Morticia or Uncle Festus was his droll reply 'You rang?' stemming from those deep pipes of a thunderous voice. There was always a sense of exasperation that Lurch felt when being inconvenienced at times. But with that sentiment aside the Addams' menacing-looking manservant was loyal to a fault and his 'You rang?' quip was just as inviting as the hulking household helper whose mouth these words came from each week on '60s television.
2.) 'Holy [insert word here]' (Robin, The Boy Wonder) from 'BATMAN'
Imagine Batman and Robin driving in the batmobile when the vehicle hits a major pothole causing some discomfort to the delicate derriere. On cue, the Boy Wonder says to the Caped Crusader in exasperation, 'Holy haemorrhoids!' Thus, the 'holy' catchphrase for Robin became part of the zany sensation that was sweeping the nation in the mid-60s as 'Batman' was campy gold on the boob tube. Reportedly, it was the in-thing to be part of the 'Batman' craze as well-known celebrities literally fought to become a villain on the popular show just for the clout. As the younger half of the Dynamic Duo, Robin's (alter ego is ward Dick Grayson as played by Burt Ward) constant exclamation of 'holy this' or 'holy that' became as expected as the show's colourful fight sequences or the life-threatening contraptions that compromised our kooky crime-fighters. If the villainess vixen Catwoman was seducing Batman no doubt Robin's immediate response on the spot would be 'Holy mush!'
3.)'Bazinga' (Sheldon Cooper) from 'THE BIG BANG THEORY'
What can one say about America's ten-year fascination with TV's favourite Texan theoretical physicist in Dr. Sheldon Lee Cooper who has more degrees to his brilliant name than a room thermostat? Actor Jim Parsons has won Emmy Awards playing the brainy and uptight academic whose trademark catchphrase 'Bazinga' is the only real and genuine spontaneous outlet to his otherwise stuffy, erudite demeanour. Sheldon, an avid comicbook fan and holy worshipper of everything S'tar Trek' and personal idol in Mr. Spock, uses his 'Bazinga' tag word as a formulated put-on for those developing an acquired taste for the wooden-sounding huckster. 'Hey, Sheldon…I just spilled hot tea on your favorite Dr. Who tee shirt. Bazinga!'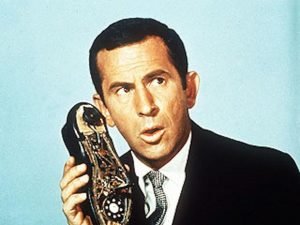 4.) 'Would you believe…', 'Sorry about that, Chief', 'And loving it!', 'Missed it by that much' (Maxwell Smart/Agent 86) from 'GET SMART'
The mid-60s comedy spy fantasy series 'Get Smart' not only exposed us to the late Emmy-winning comedian/actor Don Adams' breakout role as bumbling CONTROL Agent 86/Maxwell Smart but it also introduced a string of humorous Smart-inspired catchphrases that would define this program's infectious satire in the spy genre. After an airing of 'Get Smart', many could not wait to quote the klutzy secret agent's witticisms. For instance, Max could clumsily spray ink all over the Chief's new tie then offer the following haphazard apology, 'Sorry about that, Chief!' Maxwell Smart's iconic catchphrases are fresh today as they were back then over five decades ago.
5.) 'Don't make me angry…' (Dr. David Banner) from 'THE INCREDIBLE HULK'
If anybody's word needs to be heeded about not to tick somebody off then it certainly has to be the spoken warning of the problematic protagonist from 'The Incredible Hulk's Dr. David Banner (actor Bill Bixby). The catchphrase 'Don't make me angry…you won't like me when I'm angry' rings true because Banner has been cursed with the excess radiation in his body's system rendering him a toxic terror whenever he is enraged by poisonous people or precarious predicaments. The result: Banner's anguish turns him into a green-skinned behemoth growling and grunting his way in total destruction until he can morph back into the normal sized David Banner, shredded clothes and all.
6.) 'Danger, Will Robinson!' (The Robot) from 'LOST IN SPACE'
Perhaps one of the most familiar catchphrases in American sci-fi TV came from a non-human courtesy of the Irwin Allen-produced '60s cult outer space series 'Lost In Space'. Specifically, the B-9 Robot (the body of Bob May and the voice of Dick Tufeld), a protector and honorary mechanical member of the Robinson family, was the source for the now famous 'Danger, Will Robinson' warning whenever the youngest Robinson was seriously jeopardized by space aliens or whatever devious scheme that was initiated by the insidious Dr. Smith. Because Will had a special brotherly relationship with the Robot, it made it more urgent when the programmed machine had to issue the rallying cry to help save his little human buddy from further harm. Indeed, the 'Danger, Will Robinson' catchphrase became one of the identifiable staples to the 'Lost In Space' brand that continues to amuse the pure casual and hardcore fans to this very day at enthusiastic sci-fi conventions around the world.
7.) 'Na nu, Na nu' (Mork) from 'MORK & MINDY'
Most Americans realised that the wacky space alien Mork from Ork first appeared as a galactic visitor on the long-running 50s-based sitcom 'Happy Days', which in return was a produced show aired in the 70s. Eventually, Mork spun off to his own program in the early 80s entitled 'Mork And Mindy'. The wild antics and manic mannerisms of the red-costumed spaceman (and the late Robin Williams who portrayed him) turned Mork into an immediate hit for the TV audience to embrace. One of Mork's trademark tendencies was his repetitive catchphrase 'Na nu, Na nu' that seemed to be repeated in unison by 'Mork And Mindy' fans that brought into the far-out frivolity.
Okay, folks…there is bound to be some heated discussion about what 'Star Trek' catchphrase should be included in this particular write-up. Sure, there are a few worth consideration that comes to mind: 'Space…the final frontier' or 'Beam me up, Scottie' (which was never said in the series in that word order) or 'That is highly illogical, Captain'. However, opting for Mr. Spock's stoic yet meditative motto 'Live long and prosper' feels more dignified and defining given that it comes from one of Science Fiction's most revered and resilient TV characters to ever grace the small screen en route to becoming a legendary fixture globally. Additionally, the half Vulcan/half human USS Enterprise figurehead (played by Leonard Nimoy) incorporated the famed hand gesture to go along with his signature catchphrase to further secure the ever-lasting stability of 'Star Trek' mythology.
9.) 'Resistance is futile' from (Picard the Borg/Locutus) 'STAR TREK: THE NEXT GENERATION'
The refined and astute Captain Jean-Luc Picard (played by Patrick Stewart) has had his animated moments of delivering tongue twisters such as his emphatic command 'Engage!' But what about the other side to the commanding Picard's protective soul? What immediately comes to mind is Picard's abduction and perverse transformation into the ominous Borg known as Locutus from 'Star Trek: The Next Generation's compelling episode 'The Best
Of Both Worlds'. As Picard's assimilation into Locutus is accomplished, one of the eeriest and hypnotic catchphrases one could hear in haunting Star Trek jargon are 'Resistance is futile'. It sends a chill down one's spine whenever Picard the Borg/Locutus utters this taunting tagline.
10.) 'Next stop…The Twilight Zone' (Rod Serling) from 'THE TWILIGHT ZONE'
How can one not be totally mesmerised by the throbbing theatrics of the late Rod Serling's surreal and shadowy delivery of his opening monologue that made up the classic opening credits to his ground-breaking SF/psychological/horror/fantasy anthology series 'The Twilight Zone'? Particularly, the tail end to 'Next stop…The Twilight Zone' catchphrase would come to signify the bizarre with the bewildered, the shock with the shame or the fear with the friction. The decade of the '60s in America prospered and came of age with such sophistication in its probing SF leanings as demonstrated in Serling's tantalising and treasured 'Twilight Zone' treats of creepy contemplation.
(c) Frank Ochieng 2019