I pulled my copy of 'The Future Of Erotic Fantasy Art' four years ago and using some spare time to catch up with this book and found mint copies are still out there. The first introduction by artist Chris Achillés defines 'erotic art' as featuring women in a state of undress but not necessarily of a sexual nature.
All down to curves as he describes it. As such, it also appears the appeal is for members of both adventurous without sexual feeling. As the 61 artists are also of mixed gender, with several having more than one entry here, this obviously doesn't favour any one sex. Clearly this is not a male domain. If you compared this to the skin-tight costumes of super-heroines, the allure is all about form.
As always, people tend to confuse 'exotic' meaning 'foreign' with 'erotic' meaning 'sexual'. Considering the number of fantasy folk like fairies, angels and demons in this book, then it lives up to being erotic fantasy art.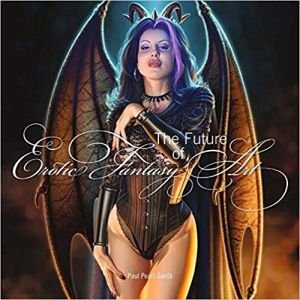 Oddly, there are a lot of digital paintings and mixed media before we come across one sculpture of a mermaid and the occasional acrylic painting. Digital out does acrylics but at least they are included in the selection here. Each one has a caption, often with details supplied by the artists themselves. Even with the passage of time, their art software is still around. I did wonder at the number of them who used Poser for their modelwork because it means that they weren't actually drawing their own figures. I have played with a version of Poser in Clip Studio but found I could draw faster than it.
Although computers have caught up with artists needs, even back then, it was still a proving ground for new artists. The number of times a lot of them say they only finished the art in Photoshop rather than use it throughout should give any novices out there food for thought that its strength lies in finishing than starting your work there.
Whether that's changed by now remains to be seen or given thoughts to. Using a bit of everything from original drawing to going digital makes a lot of art mixed media these days. The tools are only as good as the imagination and skill of the artist.
Very few of these paintings suffer from book crease spread over two pages. Although there is an obvious uniformness in skin tone which is still prevalent today, there is enough variety in the art styles to please everyone. On further reflection, the blame for skin uniformality shouldn't just lie at digital painting's feet as this was also employed in airbrushed painting as well.
GF Willmetts
October 2019
(pub: Harper Design, 2011. 192 page illustrated squarish hardback. Price: I pulled my copy for £ 4.95 (UK). ISBN: 978-0-208286-2)
check out website: www.harpercollins.com
Category: Books, Fantasy, Illustration
Geoff Willmetts has been editor at SFCrowsnest for some 21 plus years now, showing a versatility and knowledge in not only Science Fiction, but also the sciences and arts, all of which has been displayed here through editorials, reviews, articles and stories. With the latter, he has been running a short story series under the title of 'Psi-Kicks' If you want to contribute to SFCrowsnest, read the guidelines and show him what you can do. If it isn't usable, he spends as much time telling you what the problems is as he would with material he accepts. This is largely how he got called an Uncle, as in Dutch Uncle. He's not actually Dutch but hails from the west country in the UK.