Will Eisner: Champion Of The Graphic Novel by Paul Levitz (book review).
Author Paul Levitz says from the start that there have been many books written about Will Eisner and as the title 'Will Eisner: Champion Of The Graphic Novel' says, he wants to focus on the evolution of the graphic novel and the cartoonist's involvement in it. After all, it was Eisner who first coined the name years before actually creating the one, although he was not the first as I discovered reading this book. Levitz covers Eisner's history showing a lot of art from his archive that makes this book really hard to put down to absorb it all.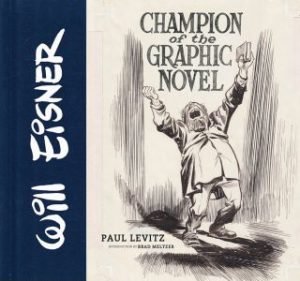 Something I didn't know was that Eisner contributed covers to British Comics 'Okay Comics Weekly' and 'Wags' in various styles back in the late 1930s. Considering how proficient he was, I suspect he just saw it as a challenge as much as a labour of love. Then again, Eisner was also a business man and partnered with Jerry Iger whose strength was as a salesman ensured there were markets wanting his work. Indeed, as the work went beyond his own hand, their studio gave a lot of employment to upcoming artists as well. Amongst his creations was 'Blackhawk' although he concedes in 1999 that artist Chuck Cuidera brought more to the strip than he did.
Of course, all of this was getting Eisner organised into his own head and into comicbook newspaper syndication for Busy Arnold where he created 'The Spirit', although it was his new business partner who came up with Denny Colt's non de plume. Like Joe Simon, Eisner squared up to making contracts that worked and although Arnold had 'The Spirit's copyright for a while, he did revert back to its creator later. Most of the original art was destroyed, being used to protect the metal plates that they were printed with, but there are samples of some originals showing even Eisner relied on white opaque to tidy up his inks. If you're learning how clothes crease when drawing, pay particular attention to page 49 as an objective lesson from 1940. I should point out that there are several 8 page stories of 'The Spirit' through this book, just in case you've missed out on them before. Some of these are rare and definitely exploratory. Eisner relied on film techniques for the various perspectives he used, realising that viewers were getting used to them from the movies so would understand the shorthand he employed. Of particular note are the layouts for 1948 called 'The Cigar' that was never completed. If you ever wondered where Eisner got the name P'Gell from then look no further than Paris' red light district called the Quartier Pigalle.
After Eisner ran out of steam with 'The Spirit', he did a run of educational comics for the military PS Comics, continuing something he did while he was in the army himself. Later, the discovery of underground comix scene. Although Levitz doesn't emphasis which titles he found appalling, Eisner did like some elements of publishing freedom it would get him to do the kinds of comics he wanted to draw. This later led to him acting as a adjunct at the School Of Visual Arts in New York, teaching many artists who went on into the industry.
There is an extensive look at Eisner's 'A Contract With God' as well as all the other work he did after. I was out of comic reading when much of this was done from the 1990s on, so any comments here are observatory. The essence of Eisner's art is that of a cartoonist who can convey emotion in a single panel. You can see that in other cartoonists as well but Eisner was inventive and always exploring and probably why he's remembered more than most, especially as he also wrote books on his technique as well. If you're an artist reading this book, you will certainly grasp this from the content and ensure every panel counts as has every comicbook artist who has learnt from his techniques. If you don't know which end of a pencil to draw with, then this book should be seen as inspirational as to how art is a means to an end in telling a story in pictures. In his final story of 'The Spirit' shown in this book, Eisner ignored the standard panelling system and it doesn't matter in his telling a story and even ends in a wry chuckle. A sharp reminder that Eisner had and could do it all. Read and learn and feel inspired.
GF Willmetts
February 2016
(pub: Abrams Comicarts. 326 page illustrated indexed large square hardback. Price: £25.00 (UK) $40.00 (US); $49.95 (CAN). ISBN: 978-1-4197-1498-6)
check out websites: www.abramscomicarts.com and http://www.abramsandchronicle.co.uk/books/art-and-design/9781419714986-will-eisner-champion-of-the-graphic-novel