The original motion picture soundtrack for the film 'War For The Planet Of The Apes' is, as the name might suggest, the film's original music composed by the very talented Michael Giacchino. He's a very busy person writing music for film's TV show's and video games. I say busy as I just noticed he also wrote the score for the 'Spider-Man – Homecoming' film which I will review next.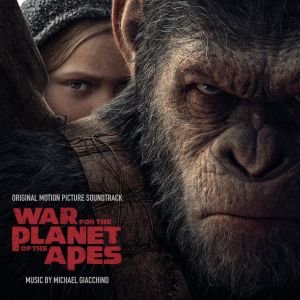 I have not yet seen 'War For The Planet Of The Apes' but have seen the various trailers and it looks to be a bleak affair for everyone concerned. By everyone I mean the humans and the other apes. Not having seen the film puts me at a slight disadvantage when attempting to review this CD as I will explain later.
What we have on the CD are 17 tracks providing 76 minutes of your listening enjoyment. Well, except for track 1 which is titled 'Apes: Past Is Prologue'. This is 10 minutes 54 seconds long and is rather dark and foreboding in nature. It's not really music in the traditional sense rather a precession of special effects with the occasional choir making an appearance. What you will pick out is the drum. This features quite a lot in this track and in most of the others, too. This first track is hard going as it is not only bleak but has a very large dynamic range going from the very quiet to the rather loud. Sometimes unexpectedly and also from loud to soft. Without having seen the film, it's difficult to put together a narrative for what seems to be a random collection of noises.
Track 2: 'Assault Of The Earth' follows a similar vein, although there is more repetition in this somewhat shorter track. It starts with some shrill metallic noises before building to a fitting climax. Perhaps I'm being pessimistic but the album's cover features a close of a rather cross-looking ape with a worried human woman looking over his shoulder. It sort of sets your expectations for something angry and confrontational which is what you get with the first two tracks.
Track 3: 'Exodus Wounds' is a much softer almost melodic affair. Until a dark undertone is introduced after 90 seconds but this is phased out for a more uplifting feel to the track as it ends. I should mention that some of the tracks are quite short. There are three tracks under 2 minutes long and the including these three, there are eight tracks under 3 minutes long. The two longest tracks are the opening 'Apes: Past Is Prologue' and the final one, aptly titled 'End Credits'. Combined these two tracks amount to 20 minutes and 25 seconds.
I'm not going to give a breakdown of all 17 tracks but will say that from track 3, 'Exodus Wounds' onwards this was a very enjoyable listening experience. Track 1 was a bit to random in composition for me and the general dark foreboding nature to the piece makes it a bit of a chore to listen to. As I said earlier track 2 is more of the same dark foreboding nature but now with grating metallic noises, although it does pick up towards the end.
There are some exceptionally good pieces in here with track 9, 'Apes Together Strong' being a stand out one. For the first 3 minutes or so it is a more traditional orchestral piece and a very good one to. It then changes to something completely different, obviously supporting something happening on the screen before switching back to an orchestral ending for the last minute.
Track 10: 'A Tide In The Affairs Of Apes' is a personal favourite of mine. There's a good drum beat with what sounds like a glockenspiel. The ending is, of course, nothing like the beginning of the track but I must say it is rather well done. Perhaps it's the nature of film music scores that they have such dramatic changes of tempo and style within a track. Some of the tracks on this album have multiple changes within the same track. It makes me wonder how the pieces became grouped together into a track. Of course, it might be obvious if I watched the film.
There's no doubting Michael Giacchino skill as a film score composer. Several riffs, if I can use that term, are repeated in different tracks which seems to bind the album into a coherent whole. For me, personall,y I would give tracks 1 and 2 a miss and just play the whole thing from track 3 onwards. Even the last track, 'End Credits' is very good. At 9 minutes and 31 seconds long, I can only surmise that there must have been a very large cast and crew who all warrant a mention.
I have wondered before about who actually buys these movie soundtracks apart from dedicated fans of the film. The music is in most part orchestral and seems to be out of favour with today's youth. They don't know what they are missing.
Andy Whitaker
July 2017
(pub: Sony Music Classical. 1 CD 76 minutes 17 tracks. Price: $11.78 (US), £ 9.99 (UK). ASIN: B072PSWYRZ)
check out website: www.sonymusicmasterworks.com
Category: Films, MEDIA, Music/Audio
I live in deepest darkest Essex where I enjoy photography, real ales, walking my dog, cooking and a really good book. I own an e-book reader which goes with me everywhere but still enjoy the traditional paper based varieties. My oriental studies have earned me a black belt in Suduko and I'm considered a master in deadly Bonsai (there are very few survivors).