I like surprises, especially with artbooks. When I flicked through the pages here I discovered that artist Robert E. McGinnis had done poster work for the James Bond franchise during the Connery-Moore period, including a piece of merchandise I still own, the box cover of the 'Live And Let Die' Tarot cards. I always wondered who had painted it and now several decades later that thought has been put to rest.
Bob McGinnis started painting book covers back in the late 1940s and was renowned for painting women. Not actually cheesecake, though he does paint the occasional nude. Much later, he even turned down 'Playboy' who wanted him when Alberto Vargas died. Seeing his work, McGinnis could truly paint everything from comedy to serious, although much of the work here is the latter. In the introduction, he has a piece of comedy work from 1947 of the problems of painting nudes with no inspiration. I suspect most of you, like me, who live in the UK, wouldn't have seen his work because it was mostly in the detective thrillers although I suspect if you pick up these books from that time period you'll come across them. Indeed, 'Pop.1280' by Jim Thompson from 1964 is the most highly valued McGinnis covered paperback and yet it is a simple design compared to some of the material in this book. A lovely twist is seeing the covers of the 'Milo March' series where he borrows the likenesses of James Coburn and Goldie Hawn to telling effect. There are also some of McGinnis' preliminary sketches that are truly breath-taking as well. I'd swear a painting further into the book looks like a ringer for Cher.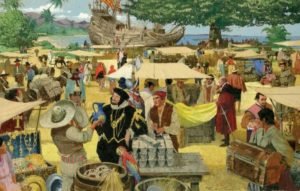 Reading about McGinnis' work is rather like getting a history of the American paperback and how the art evolved on the cover, no doubt helped along by the printing presses. Male readership of detective novels tapered off and so McGinnis' talent moved to romance and historical romance and still in heavy demand because his art sold books. If you thought model posing was something limited to our genre, seeing his work is truly inspirational, often with two page spreads so the back cover was covered as well.
The odd genre painting is covered and I spotted 'Clan Of The Cave Bear' although it was never published I suspect that the naked figure from the back might have contributed to that. From what is suggested from the text, McGinnis would push thing occasionally and when he had to dress the unclad, would reverse it when he had his paintings returned. He certainly had problems with the male figure that way as well even if it was only a back view. I had a ponder on this and can certainly remember there was less problems with bareback nudity on general genre UK paperback covers so does make me wonder if that was why McGinnis pushed a little.
In case you thought McGinnis was only limited to book covers, from 1961 on, he painted posters for some sixty films. The Bond ones I've mentioned, but there's also one for 'Barbarella' and 'The Assassination Bureau' here as well. Uniquely, he was also allowed to do the titles art for the 1965 comedy western 'The Hallelujah Trail' which is now on my list to look up. We do see art used that way from time to time but rarely samples in books.
Seeing McGinnis also painted illustrations for various magazines to their requirements is a reminder to the time before photographs supplanted them. Again, they are in American magazines but seeing what he painted shows how versatile McGinnis is. For the 'Saturday Evening Post', he has a multi-pose of a woman on a trampoline, each with a different expression which must surely be a lesson for the rest of us.
Something that is only apparent from looking at all the paintings as an ensemble that I realised so many were linear, that is straight on, although that might have been the dictates of editorial requirement not to tax the reader. This isn't to say McGinnis couldn't do paintings from different perspectives. There are several showing him more than capable but it seems to have become a signature of his to paint that way in this book. More so, it's a lot trickier to give dimension that way but he succeeds with a flourish, often taking an unlikely pose into one that other artists might never have considered.
Although there is little from our genre, if you love good art then this is a book to cherish. It shows how much Robert McGinnis was part of the history of the illustrated paperback and all aspects of interior illustration and film posters. To not have his work amongst your books would be an injustice. The fact that he can still paint well at age eighty-eight is awe-inspiring.
GF Willmetts
December 2014
(pub: Titan Books. 176 page illustrated large hardback. Price: £24.99 (UK), $34.95 (US), $38.95 (CAN). ISBN: 978-1-78116-217-0)
check out website: www.titanbooks.com
Category: Books, Illustration
Geoff Willmetts has been editor at SFCrowsnest for some 15 plus years now, showing a versatility and knowledge in not only Science Fiction, but also the sciences and arts, all of which has been displayed here through editorials, reviews, articles and stories. With the latter, he has been running a short story series under the title of 'Psi-Kicks' If you want to contribute to SFCrowsnest, read the guidelines and show him what you can do. If it isn't usable, he spends as much time telling you what the problems is as he would with material he accepts. This is largely how he got called an Uncle, as in Dutch Uncle. He's not actually Dutch but hails from the west country in the UK.