The Art Of Hotel Transylvsania 2 by Brett Rector (book review).
I should say from the start, I didn't see the first 'The Art Of Hotel Transylvsania', let alone this sequel, 'The Art Of Hotel Transylvsania 2'. The lady publicist at Titan remembered I was a sucker for artbooks and presumably wanted to see what I made of this book by Brett Rector.
The information gleaned from the book indicates there was romance in the first film between a human and the daughter of one of its famous vampire residents. The hotel name should give away that it's a certain Count. The sequel is the marriage and off-spring and Dracula is concerned that the boy is human. It also widens out, leaving the hotel for the married couple to visit the husband's home town and for Dracula to see what is wrong with their son who has no vampire tendencies and a group go off on a camping trip, as you do.
Much of the art in this book is preliminary sketches and painted designs as guides to the computer animators. Occasionally, up pops a picture or three of what the final CGI painted version looks like. If nothing else, it should remind me you that there is still work for the cartoonist out there without the need of a computer. When you consider the time it takes to render a cel this is hardly surprising.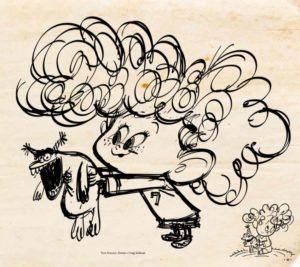 I expect much of this material makes better context after seeing the film. However, for those who enjoy the film and want to see how it was designed and created will have a field day far more than the junior audience it was made for. The strongest lesson I learnt from this book is how these designers needed to take acceptable known images and give them a little spice to fit in with this film. After all, it is only supposed to be a couple steps away from our reality.
The page samples included with this review should do their own talking and might encourage those of you who want to get into this field to develop your skills.
GF Willmetts
October 2015
(pub: Titan Books. 157 page illustrated oblong hardback. Price: £29.99 (UK). ISBN: 978-1-78329-881-5)
check out websites: www.titanbooks.com and www.www.sonypicturesanimation.com