The Alluring Art Of Margaret Brundage by Stephen D. Korshak & J. David Spurlock (book review).
I've heard the name of artist Margaret Brundage (1900-1976) but hadn't really sought her out until this book, 'The Alluring Art Of Margaret Brundage' by Stephen D. Korshak & J. David Spurlock. A former fashion illustrator, Brundage had to find other venues when that market dropped off and took her portfolio to 'Weird Tales' where they were struck by her picture of an oriental lady. Even more remarkable, her speciality was pastel and admits she wasn't good with oils.
She would go to the editorial office, discuss the story she was to do the cover for, produce some sketches there and they invariably chose the ones with least clothes because they sold well.
Something that doesn't come out until later in the book was she signed her as 'M. Brundage' and in those days it was instantly assumed because of the number of semi-nudes she was commissioned to do that she was male. It took a while before her sex was clarified by 'Weird Tales' editor Farnsworth Wright. Oh, Brundage was her married name and I suspect that as it rhymes with 'bondage', her risqué art got caught with that hook although there's little of that in her art in this book. Her maiden name was Johnson by the way. She was also the first artist to do a Conan cover and a black man cover as well. Robert E. Howard was a great admirer of her art.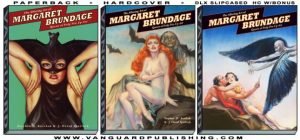 From the description of some of the pictures spoiling because of loose dust, it also sounds like there was no fixative at the time. For those of you who are playing with pastel today and don't know, a fixative will preserve and keep the pastels or even soft pencil drawings from smudging and if you find the aerosols expensive, hair spray can do the same job.
In those days, fan movements weren't big and Brundage was shy and retiring. She didn't even want it publicly known when she died. This didn't mean she was a recluse and it was sheerly by accident that 'Weird Tales' fan R. Alain Everts found her at an art show and managed to get an interview three years before she died.
David Spurlock has a look at the kind of life she led in the early 1930s where the bohemian life in the USA encased everything from communism, black rights to hobos, who weren't tramps but travelling workers and, shown here, had their own code of ethics. The number of names that came up from Walt Disney to singer Paul Robeson will make you think. Disney was in the year below Margaret Johnson at high school and art editor of the school paper and she didn't think much of the rat he kept drawing and never accepted any of his art. Even so, years later, she had a personal look around his studio when she was looking for work and Disney's fond memories of school of her. I thought that showed Disney in a different light.
For the most part, this book shows all her covers at full size. As Brundage was trained in fine art, her attention to anatomy and faces is still first rate even today and must surely be one of the few pastel illustrators in our genre. The fact that with covers for 'Weird Tales' she rotated with Virgil Finlay shows how valuable an artist she was in the that period.
The fact that she slipped below the radar of most of us was down to her not promoting herself as she kept away from the developing fandom movement stateside. She clearly wasn't egotistical and rarely strayed from Chicago and taught art later in her career. This book should be included in your collection if you want all the early SF/fantasy artists.
GF Willmetts
March 2021
(pub: Vanguard/Shasta Phoenix, 2013. 184 page illustrated large softcover. Price: I pulled my copy for about £19.00 (UK). ISBN: 978-1-934331-50-7)
check out websites: www.vanguardpublishing.com and www.shasta-phoenix.net