In the tradition of EC Comics, 'Tales From The Crypt' has been raised from the dead by the Papercutz' Super Genius imprint and promises to deliver horror unfit for children, so be warned. As in days of yore, the tales are hosted by the Crypt-Keeper, the Old Witch and the Vault-Keeper.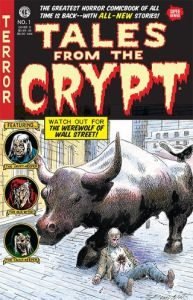 The Crypt-Keeper introduces the first story 'Die-Vestment' by writer Stefan Petrucha and artist Jolyon Yates. Brent Angleton is a wall street titan who has preserved his life for longer than usual through buying people's organs to keep him functional. Unfortunately, he tends to double-cross the donors and their heirs get no money. A straightforward revenge story and could have used a few more plot complications. I was impressed by the idea of putting your oil and arms interests inside shell companies with nicer names like 'Environmental' and 'Organics' to deflect criticism. I'm sure many entrepreneurs will take this up.
Another evil businessman is in 'Zombie Bank', written by David Anthony Kraft and Onrie Kompan and drawn by Miran Kim who also does the colouring. This one is introduced by the Old Witch. There's been some sort of Zombie Apocalypse but life goes on as usual. Live Marty Fletcher is the general dogsbody in the Zombie Bank office and his boss, Frank Kind, is beastly to him. Marty likes Frank's secretary, Julie, but then she becomes a zombie, too. The ending was odd. Not my favourite but the whole zombie craze leaves me, like them, cold.
'The Werewolf Of Wall Street' is brought to you by writer Scott Lobdell and artist John McCrea and the Vault-Keeper. Thomas Stodd is one of the richest men in New York, shallow, greedy and despicable. The story opens with him sacking his press agent because the newspapers are being beastly to him. Three of his partners have been murdered and city detectives Wayland and Branch are on the case. They are a young woman and a middle-aged man whose pension fund has been ruined by Wall Street sharks. Suddenly, there's a big splash page of Stodd dead next to a bull. Eventually, I figured out there must be a statue of a bull on Wall Street but it took me a while. At first, I thought he'd been gored. This story was confusing and a bit silly but the art by John McCrea was very good, reminiscent of Howard Chaykin. I can't help but notice that all these yarns feature evil businessmen, surely a sign of the times in the USA and the reason they elected Trump as President (?!).
It's clear from the credits that all the artists did both pencils and inks though it's possible that neither medium was involved. I believe this stuff is done on computers now, not on bristol board with HB pencil and India ink. The stories were not terrific but it's hard to get a lot in with so few pages and the twist in the tale terror yarn has been done so often that it's difficult to make it new. The organ donation story here was probably a step in the right direction, using the latest developments to horrify in new ways. Perhaps modern science could be mixed with the traditional werewolf and vampire tropes to make really original tales. How about IVF? There's got to be a story in that.
Generally, this is a decent effort at reviving the old classic and I wish Papercutz' all the best with their endeavours. They should send a review copy to Stephen King. He loved the old EC Comics and might give them a big name boost.
Eamonn Murphy
December 2016
(pub: Super Genius, an imprint of Papercutz, 160 Broadway, Suite700, East Wing, New York, NY 10038. © 2016 William M. Gaines, Agent, Inc. The EC logo is a registered trademark of William M. Gaines, Agent, Inc. used with permission. 38 page comicbook. Price: $ 3.99 (US), $ 5.50 (CAN))
check out website: http://papercutz.com/kids-comics-graphic-novels/tales-from-the-crypt
Eamonn Murphy is a science fiction, fantasy, horror and graphic novel reviewer who writes a bit. See https://eamonnmurphybooks.wordpress.com His latest book 'Federation and Empire' is out now - links here https://nomadicdelirium.wordpress.com/