Star Wars: The Original Topps Trading Card Series by Gary Gerani (book review).
I've gone about reviewing these 'Original Topps Trading Card Series' books in a bit of an odd order, starting with the 'Galaxy' series, then 'Empire Strikes Back' and now the series that kickstarted them all 'Star Wars'. Once again, though, it proves to be a fascinating journey into a world of collectible merchandise from nearly forty years ago.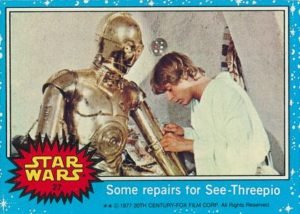 Like so many things associated with 'Star Wars', it almost didn't happen. Gary Gerani was working in New Product Development for Topps Bubblegum Cards and their last SF series, one based on 'Star Trek' had tanked. Despite an enthusiastic pitch and Gerani's interest in this new movie from Twentieth Century Fox, Topps's president said 'No'. The licence then went to a competitor Donruss, who was owned by Kenner, the company that had won the 'Star Wars' toy licence. They also decided to pass on 'Star Wars' which left Topps open to scoop up the rights when enough time had passed and the movie's hype machine was in top gear.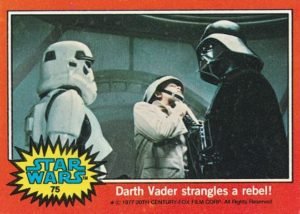 What followed was an unprecedented success for Topps. 'Star Wars' drove five separate card series prompting the team to invent new ways of presenting the images they had been given and having to ask Lucasfilm for new publicity shots to satisfy an audience who were crazy for all things 'Star Wars'.
The cards focused on characters and scenes from the movies, with plot and trivia cards thrown in, as well as stickers and puzzle cards. The captions were often of the pulpier variety and perfectly suited 'Star Wars' popcorn approach to SF. Particular favourites include a shot of the Rebels watching the approach of the Death Star during the Battle of Yavin with the caption 'Who will win the final Star War?' and a Stormtrooper promo shot which has the line 'Soldier Of Evil!' beneath it.
As per the other two books I've reviewed, the cards are lovingly presented on the pages in order and displayed in excellent quality. Tellingly, you can see the standard of material that the team had to work with back in 1977 and some of the photos were quite poor quality. As before, Gerani's commentary outlines why certain stylistic decisions were made or which particular cards happen to be his favourites. His input is really interesting. After all, how did you go about merchandising something that people knew so little about, even after seeing the film there was relatively little information about certain characters. As for the names of the creatures in the Cantina – forget it!
This is another fantastic look at merchandising history from 'Abrams Comicart' and even if you didn't have the trading cards or, like myself wasn't even born, this is a unique way of getting a little taste of what the excitement was all about.
John Rivers
May 2016
(pub: Abrams ComicArt. 548 page A5 hardback. Price: £15.99 (UK). ISBN: 978-1-41971-172-5)
check out websites: www.abramsbooks.com and http://abramscomicarts.com/