Star Wars: Return Of The Jedi: The Original Topps Trading Card Series, Volume 3 introduction by Gary Gerani (book review).
Hot on the heels of previous volumes for 'Star Wars' and 'The Empire Strikes Back', Abrams have released volume 3 in their series of books looking at Topps Original Trading Cards, this time covering 'Return Of The Jedi'. Once again, it provides a unique perspective on the nature of merchandising and development of 'Star Wars' as a franchise.
The book is introduced by Topps creative Gary Gerani, who details how he was invited back to Lucasfilm to read the script for the latest of George Lucas' movies. This time it was code-named 'Blue Harvest' and all set to be released as 'Revenge Of The Jedi'. Gerani writes about how, for him, Jabba the Hutt was by far the standout character while others, such as Abe Morgernstern, head of new product development, the marketing potential of the Baby Ewok was huge. This is why the infant teddy-bear made it on to the front of one of the six pack designs.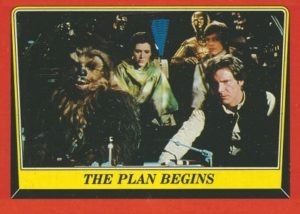 Gerani reminds us that, by 1982, Lucasfilm was a much slicker machine than six years before it. The process of mock-ups and sign-offs was much more regimented for approving all of the cards. The upside was that Topps were offered a lot more material for photographs much earlier. The menagerie of Jabba's palace is brought to life in the cards. This meant that a lot of the US kids grew up knowing who Salacious Crumb was, while here in the UK, I just called him 'Jabba's Gremlin'.
As opposed to 'The Empire Strikes Back' set, which contained a lot more behind-the-scenes material, here Gerani and team decided to focus a lot more on the stories, given the content they had. As beforehand, there are some fantastic card titles that glorify in 'Star Wars' b-movie status. 'COURT OF EVIL' describes Jabba sat in his palace flanked by both Crumb and Bib Fortuna. Meanwhile 'WILL HAN SOLO BE DINNER?' refers to Solo's capture and near roasting by the Ewoks.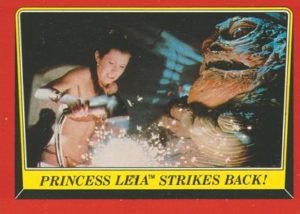 If you've looked at any of Abrams Topps books, you'll know that each is designed and crafted to be a unique pop culture item in themselves. This volume is no different and, once again has free, exclusive trading cards at the back, meanwhile the bright yellow jacket with Wicket staring out at you is eye-catching and evocative. Inside, the cards are presented one-by-one front and back from both series that Topps did for 'Return Of The Jedi'. This totals all 220 cards and 55 stickers.
Even for a UK audience that didn't have easy access to the Topps trading cards, this is a great volume for enjoying pure nostalgia. You forget just how important the fate of Luke Skywalker was and what it meant to liberate the galaxy. Reliving that through merchandise like this is a lot of fun indeed.
John Rivers
August 2016
(pub: Abrams. 528 page hardback. Price :£15.99 (UK). ISBN: 978-1-41972-092-5)
check out website: www.abramsbooks.com