Rembrandt: Masterpieces Of Art by Susan Grange (book review).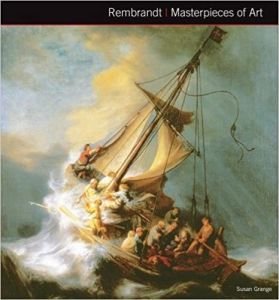 Looking at the other artists in Flame Tree's artists books that might be akin to fantasy art, I considered Dutch painter Rembrandt Harmenszoon van Rijn (1606-69). The 'van Rijn' part means 'of the Rhine', the river and very much working class. He was classically trained in art and etching, the latter allowing him to make prints of his work. Writer Susan Grange casually name drops other artists from the period so was in a creative century even if he didn't visit Italy.
Reading behind the lines of Grange's text, Rembrandt's ability to do good likenesses, as with a dissection scene, 'The Anatomy Lesson Of Dr. Nicolaes Tulp', probably endeared him as a portrait painter but he could certainly do far more. He was also a collector of artbooks, busts, statues, costumes and weapons. Does that sound geeky to you? I never really believed geeks only happened in the past couple centuries, so you would expect to see other creative people with similar traits and Rembrandt would certainly qualify.
On the art front, Rembrandt used impasto, relying on thick layers of paint to shape his paintings. When you consider etching gives a raised imprint, I can see why he chose that form although it doesn't really show in photographs but no doubt gives some depth to his work, especially how light bounces off it.
Looking at Rembrandt's paintings, if you're wanting to develop your own technique, is seeing the amount of texture and detail with his colour palate as he brings things to life. The artist's eye is to capture what is there rather than what you think it there and he provides some delicacy in his observations both in portraits and group scenes. He has only one painting attributed to him using the sea and on the cover, 'The Storm On The Sea Of Galilee', but it is so vividly action-packed that you have to wonder why he didn't do more unless it sapped a lot of energy getting it right.
Looking at his self-portraits as he aged, you do have to wonder if there was any hidden complex about his looks. However, Rembrandt was very interested in the aging process and he was his own available model for such a lengthy time period. He did three of these paintings the year before he died which should indicate the speed he worked and you rarely learn how fast some of these artists worked or how many paintings they could do in a year. Oh for the days of yore with only natural light and no television…maybe.
GF Willmetts
May 2021
(pub: Flame Tree Publishing, 2016. 127 page large square illustrated indexed hardback. Price: £20.00 (UK) $35.00 (US). ISBN: 978-1-78361-908-5)
check out website: www.flametreepublishing.com