Illustrators #32 (art magazine review).
With the latest edition of 'Illustrators', there is an introduction to Swiss artist Oliver Frey on the front cover and first article.
Certainly a dynamic artist and someone who went through the American Famous Artists School, although looking at the remarks from his first editor, needed to work on his anatomy and perspective which he duly did and improved, moving onto war comics and 'The Trigon Empire' after Don Lawrence left.
Seeing the samples here, you do have to wonder why his section hasn't been reprinted. From there, he also worked on the covers for the Spectrum computer magazine 'Crash' and then for Commodore's computer mag 'ZZAP!64' so definitely wouldn't have seen his work other than passing.
Bohemia twins George (1895-1973) and Jerome (1895-1987) Rozen appear to be the first genre twin illustrators long prior to Greg and Tim Hildebrandt. They went to the USA, where they both painted covers to 'The Shadow' where they developed his look, and painted the later covers of the 'Doc Savage' novel, as well as westerns covers. Jerome tended towards a Norman Rockwell style so could at least distinguish which was which. Diego Cordoba's look at their careers certainly filled in some gaps in my pulp fiction artists knowledge.
The same could also be said for Argentinian illustrator Alberto Breccia (1919- ), whose style changes over the years and clearly experimented over the years. Looking at his work, he wouldn't have been out of place doing British newspaper strips and might well have influenced some of the artists who did. Cordoba notes Breccua has been called the Picasso of comicbook art but he only got more abstract later in life. Considering he only used himself as model, clearly shows he knew how to draw and ink.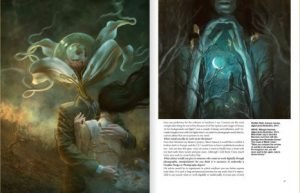 As if things couldn't get better, Cordoba interviews Brazilian artist Marcela Bolivar, who blends photographs and digital art into something quite spectacular. Although she's painted book and album covers, yet to have a book devoted to her work. Hopefully, some publisher will see her work here and make an offer because the samples shown here made me stop in my tracks. I agree with her sentiments that you need to do the photographs of what you need for your work yourself and throw in a bit of imagination to get it to do what you need.
Finally, Cordoba was going to interview Argentinean artist Juan Giménez (1943-2020) last year but who died from the covid infection. Even so, his memorial here and selection of art is a great tribute. With so many of the normal venues noting people dying cut off in the pandemic, I'm not that surprised some will slip through the Net so to speak as Giménez' passing wasn't noted elsewhere.
As ever, 'Illustrators' is a great magazine to get if you want to get introduced to artists that you might not have come across before. Editor Diego Cordoba looks across the globe, mixing old and young artists so you get a good representation here and an amazing array of talent.
GF Willmetts
March 2021
(pub: The Book Palace, 2021. 98 page illustrated squarebound magazine. Price: £18.00 (UK), $21.99 (US) via Bud Plant. ISBN: 978-1-913548-02-5. ISSN: 2052-6520)
check out website: www.bookpalace.com and www.illustratorsquarterly.com