Hard To Be A God by Arkady & Boris Strugatsky (book review).
Strugatsky wrote many great novels over the years but 'Hard To Be A God' is more baffling than these. The Strugatsky brothers did a lot of metaphoring about their own country, as SF is good at doing that, but, even in translation, I'm still trying to work out what is going on… other than some sort of human power struggle on an alien world.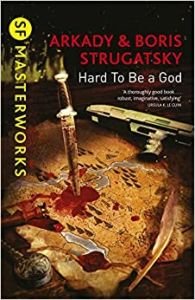 I think one of the things that threw me a bit was the royalty aspect on this planet, but the under-current was people being removed and killed discretely, which was more in line with their own country. Of course, when the revolution succeeds, executions and torture is more blatant.
In the afterward, Boris Strugatsky explains that 'Hard To Be A God' has more in common with 'The Three Musketeers', only a lot darker, so the SF aspect is only window dressing.
However, considering that have been at least 28 reprintings across the world, by his count, he probably considers it a successful book.
Purely from a writing aspect in translation, you are carried along by the text and dialogue, but if you want their more purely SF material, you might have to look elsewhere.
Geoff Willmetts
December 2022
(pub: Gollancz. 246 page enlarged paperback. Price: £ 9.99 (UK only). ISBN: 978-1-4732-0829-2)
check out websites: www.gollancz.co.uk and www.orionbooks.co.uk