Everything Or Nothing: The Untold Story of 007.
One for the BONDage and spy-fi fans among you. MGM will be releasing a new documentary in October this year called 'Everything Or Nothing: The Untold Story of 007', directed by Stevan Riley and produced by John Battsek/Simon Chinn, as part of the 50th anniversary of the James Bond movies happening that month. Can it really be only 1962 since Doctor No hit the cinemas? I'm feeling ancient here.
Everything or Nothing (which they might have wanted to hold back for the title of an actual Bond film – it sounds very cool) looks at the three big beasts behind the films – Bond producers Albert R. Broccoli and Harry Saltzman, and author Ian Fleming. Nice of them to remember the writer – it so rarely happens in the film biz.
The doc says it will give us narrative behind the longest running film franchise in cinema history, with Stevan Riley following the battles that went on behind the cameras.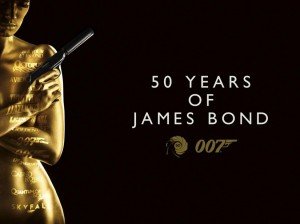 Of course, those battle are still going on, with the latest Bond flick, Skyfall, nearly being scuppered by the general Napsterization of movie revenues, making big budget flicks like the Bond franchise as suited to the new commerical ecosystem as a Diplodocus.
Will there be a 100th anniversary? It would be nice to think so.
Now, little known fact. Everything or Nothing was also the title of a not-bad Bond game during the Pierce Brosnan era. It even had a music video in the style of the usual opening sequence to a 007 film, so I've included it here for a hoot.