Dreaming In Quantum And Other Stories by Lynda Clark (book review).
'Dreaming In Quantum And Other Stories' is a short book of short and slightly odd stories. There are 15 stories in all ranging from a couple of pages to pushing 20 pages in length.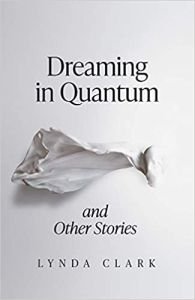 The first thing you'll notice when you open this collection is that the contents page is unlike anything you've ever seen. It's either a collection of planets or bubbles with the title of each story in its own little sphere. Once you get into the stories you'll soon realise that these are all a little odd, maybe unsettling in their contents. Some might make you laugh like 'Sidhe Wood' or 'Shorty', some will make you cry like 'Dead Men Don't Count' or 'Total Transparency'. But they will all make you look at things in a different way. Lynda Clark has taken some really interesting premises and definitely put her own spin on them.
My absolute favourite of the bunch was 'Clockwork Men And Clockwork Dogs And Frogs'. I really enjoyed this story about a person who photographs the dead and sometimes does other things to them, too. Nothing crude I promise. I would love to read a whole series of books based on this one short story. I do hope Lynda Clark hears my wish and starts writing this asap.
I also really enjoyed 'Mrs. Sutherland's Arms' as an interesting take on a traditional Science Fiction trope. I had no idea where this story would go from its humble beginnings as a reluctant young lad is forced by his mother to take some soup and blankets to a little old lady. This story especially made me think of all those Science Fiction books I've read that end at the end of a huge battle and you never know what happens to everyone afterwards. This story shows you one ending for all those soldiers.
Overall, this was a sound collection of short stories. There were, of course, some that weren't my taste but none were badly written in any way. Some maybe needed a little more detail but that's the thing with short stories, you only have a very few words to tell the tale. I'll definitely be picking up more by this author, I really do love her style.
Sarah Bruch
August 2021
(pub: Fairlight Books, 2021. 182 page paperback. Price: £ 8.99 (UK). ISBN: 978-1-91205-465-7)
check out website: www.fairlightbooks.co.uk