Doctor Who, SF And Football by John Rivers (article).
On my Facebook and Twitter timelines, throughout and after the World Cup Final, an interesting thing happened. During half-time of the BBC's Final coverage, Gary Lineker skilfully negotiated a 'Doctor Who' pun with all the finesse he showed in putting three past Poland in the 1986 competition's group stages and introduced the new 'Doctor Who' trailer. This wasn't entirely unexpected, the BBC's own 'Doctor Who' Twitter feed had posted that fans should tune in at half-time. Following the sixty second preview, many fans were delighted, but also questioned why on earth the trailer should have been shown during the football?
My social pages were full of posts either questioning the move or moaning about why they had to sit through a 'Goals Of The Tournament' competition. Moreover, on this very website, Colonel Frog wrote in his post on the trailer, 'It's a funny old world when they run the new season 8 Who trailer during the World Cup. Does football and sci-fi mix? Like oil and water, my friend.' This struck me as odd. Surely this is the perfect place for a 'Doctor Who' trailer? Allow me to explain.
Firstly, it makes good, promotional sense. Over a billion people are estimated to have watched the World Cup Final. Around 13.8 million of those watched the BBC's coverage at half-time. That's 13.8 million people who now know the new Doctor's on the way. Compare that to the circulation of the Radio Times, just over 831k copies sold per week.
New 'Doctor Who' has used big events to promote itself. Those who were baffled by the trailer's inclusion in the World Cup broadcast clearly don't remember the 2006 World Cup. To promote the World Cup Final and the 'Doctor Who' finale 'Doomsday', the 'Radio Time's featured two covers – one with Daleks, the other Cybermen facing-off over a football. See also the 'Vote Dalek' General Election cover. Personally, 'Army Of Ghosts' (the previous week) was the only thing holding back the anger/frustration/tears after England were knocked out by Portugal some fifteen minutes before it was broadcast.
The new series has also used football as a sort of cultural shorthand. Russell T Davies, wanting to ground new 'Doctor Who' in working class, 21st century reality has Mickey admit to Rose that he wants to go to the pub to watch 'the match'. All this within a few scenes of 'Rose' beginning. In short Mickey is a 'bloke', his ordinariness will later emphasise the 'fantastic' (sorry) nature of the Ninth Doctor. In Rose's eyes anyway.
Culturally, for some, football and 'Doctor Who' are linked. When I say 'some' I mean the millions of people who watched the football results trickle in at 4:45pm on a Saturday afternoon, then the news, maybe a cartoon and then 'Doctor Who'. Originally bridging the gap into 'Juke Box Jury' but down the years, in the schedules on BBC1 right next to the football results. This was a calculated move by the BBC to prevent viewers switching to ITV. The show lost this link due to its mid-week moving during the Davison years, regained it briefly during the Colin Baker years and then restored, majestically to Saturday nights in 2005. Sure, it may now have an episode of 'Pointless' to break up the schedule in between, but there it is.
Then there is the concept of fandom for both camps. I don't need to explain the link of wearing brightly coloured scarves in public. Both are activities that large groups participate in at the same time. They are experiences that are talked about the following day and week. 'Did you see the game?' 'Did you see the Garm?' This need to experience it together also makes these both 'spoilerphobic' activities. 'Don't tell me what happened in Doctor Who!' 'If you don't want to know the result, look away now.' On-demand TV may change the way we watch, but there is still value in all watching together, we comment on social media as it happens, we chat in the playgrounds of schools or across desks in offices.
Then there are fanzines. Most football fanzines are still shoddily printed, opinionated journals with questionable grammar. See also 'Who' fanzines. While admittedly most fanzines have gone on-line, there are still plenty of printed ones about for both football clubs and the best TV programme ever made.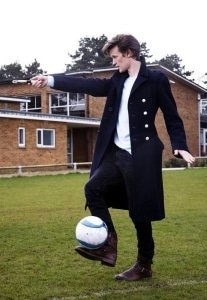 Lastly, I would cite one Doctor in particular: Matt Smith, played on youth teams for Northampton Town, Notts Forest and Leicester City. Brains in his feet. His skill is displayed prominently in 'The Lodger'. Gareth Roberts originally wrote this story as a comic strip in 'Doctor Who Magazine' where the Tenth Doctor stays with Mickey and plays football because, again, it's what ordinary guys do. It was fortunate that Steven Moffat's enthusiasm for the story dovetailed with Smith's skills.
But why do some 'Doctor Who' and some SF fans have such contempt for football? I can think of a couple of reasons that I would deem relevant outside of 'it simply doesn't interest me' or 'I have better things to do with my time'. I should mention that my editor on this site threatened me with homicide if I mentioned the World Cup again, so I guess I'm already dead.
Firstly, there's nothing compulsory about SF. I mean this both in terms of being made to do PE on a freezing November morning, getting stuck in defence because you looked a little nerdy, but also the all-pervasiveness of football or sport within many cultures. Yes, football has reached saturation point in many countries, including the UK. The greed associated with it in the UK has produced untold popularity and wealth but has also poisoned the national side and created a truly weak England team. It's also positioned many indifferent people against it thanks to the wall-to-wall media coverage. That's not the fault of the sport though, but the money men who control it and insist it is rammed down your throat continually. SF and 'Doctor Who' are perceived as an escape from cultural norms of which football has become a huge part.
Secondly, within the UK, as 'Doctor Who' gained popularity in the seventies, football supporting became an ugly, violence-fuelled activity. Hooligans fought on the terraces and people died. Would you rather go out and get your head kicked in or stay in and enjoy 'The Sontaran Experiment'? I think that there is arguably a group of fans for whom football would be anathema for that reason.
Interestingly, there are other places where sport and SF sit comfortably. While in the USA, at the beginning of July, I was sat in a bar watching baseball when I realised it was a special 'Star Wars' themed night at the ballpark. This was an excuse for families to don fancy dress and the good members of the 501st (I assume) to bring some Imperial colour to the game. This is all done in the name of raising money for charity and having a good time. In the picture below one of the ESPN commentators is interviewing Darth Vader. It was fun, good-natured and even the sports presenters seemed to be enjoying themselves.
For me, I'm happy watching West Ham on TV as much as I am watching 'The Ribos Operation'. I can enjoy an issue of the Hammers' fanzine 'Over Land And Sea' as I might do 'Plaything Of Sutekh'. Plus, for me, it's what Saturdays are about: shopping, pub, football, 'Doctor Who' and, if I'm lucky, fish and chips.
Next time, cricket: Douglas Adams, 'englishness' and 'yes, they could do with a good leg spinner'. Maybe.
John Rivers
July 2014
© John Rivers 2014
all rights reserved
[yop_poll id="9″]