I came across Cinema Retro purely by one of my random scans across the Net and bought Cinema Retro Foto Files Special Edition # 1 with its accent on spy girls, especially as I was reviewing some books along this line. It shows the popularity of this issue as it sold out and a reprint wasn't issued until October which should speak for itself. It's gone up a pound or so but I suspect the demand for it will ensure it sells.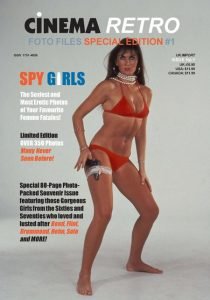 As the name 'spy girls' should tell you it covers ladies in the espionage area or mostly films with a couple from TV from the 60s-70s with accent on photos than text, with a limited amount of nudity from stills taken from the time period. Much of the focus is on the James Bond films which dominated the period, but you also get a look at the 'Matt Helm' and 'Derek Flint' film series amongst others. You get reference to other espionage films these ladies appeared in and occasional stills from these as well. As such, this magazine will be a good photo reference to any book you have on this subject, hence my quick review on the subject.
I should point out this special edition isn't typical of Cinema Retro's output. I pulled their special about 'Where Eagles Dare' at the same time and that one has a lot of depthy research pieces as well as a massive selection of photos. They also do a regular magazine which appears to be only available by subscription.
GF Willmetts
October 2016
(pub: Cinema Retro. 80 page magazine. Price: £ 9.00 (UK), $25.00 (US), $22.00 (Europe)
check out websites: www.cinemaretro.com/index.php and http://www.cinemaretro.com/index.php?/archives/8048-COMING-FROM-CINEMA-RETRO-SPY-GIRLS-FOTO-FILES-ISSUE-1.html
Category: Culture, Illustration, Magazines
Geoff Willmetts has been editor at SFCrowsnest for some 21 plus years now, showing a versatility and knowledge in not only Science Fiction, but also the sciences and arts, all of which has been displayed here through editorials, reviews, articles and stories. With the latter, he has been running a short story series under the title of 'Psi-Kicks' If you want to contribute to SFCrowsnest, read the guidelines and show him what you can do. If it isn't usable, he spends as much time telling you what the problems is as he would with material he accepts. This is largely how he got called an Uncle, as in Dutch Uncle. He's not actually Dutch but hails from the west country in the UK.