Category: TV
In the world of TV science fiction and fantasy, we all pretty much know what defines a hero. The traits of reassurance, confidence, strength, ability, instincts and courage are among the main ingredients requiring a hero to act accordingly when he/she is out to save the world from evil forces. Still, the question remains: does […]
We know, we sympathize, it should be Green Arrow. But frankly, after Smallville ending, we're happy to take any DC-branded superhero action that comes out way. And, as this clip from the new television series shows, it does look rather good. Let's hope its ratings show the same kind of metal as the man of […]
Did you think the steampunk artefacts held in Warehouse 13, and some of their plots (meet HG Wells, serial killer) were accidental? Not a bit of it, sir, as this spiffing documentary from the production team would like to make clear.
Whoever you are in life or whatever your success level is in your current standing there is almost no doubt where the credit goes to for your degree of accomplishment. For the most part, mothers are the critical staple of our existences and how we come to digest the world around us once we leave […]
Brian Blessed is to be the voice of the Nekross king in Wizards Vs Aliens, a new adventure drama from Russell T Davies and Phil Ford (The Sarah Jane Adventures, Doctor Who) which will be coming to TV in the UK via CBBC this Autumn. Here's the series' official blurb… The ultimate battle of magic […]
If you didn't know, the scifi TV series Fringe is coming back to the screen at the end of the month in the USA. Here's another one of their little viral ticklers announcing the fact in a creepy way.
A television show has to appeal to the viewer on many levels. True, the TV programme has to cater to the type of genre that the audience desires. Aside from that obvious fact, one can probably pin-point the key ingredient that draws them to the type of primetime entertainment that inspires the creative juices. The […]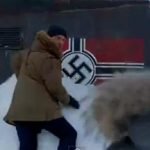 Zero Hour, a new TV series, and the most fun since a certain whip-cracking hero went in search of a lost Ark. A hidden cult has hidden some terrible secrets inside a series of old clock mechanisms. The Nazis once did anything to get their hands on it, and came very close. Sadly for Hank […]
Here comes an interesting-looking new near-future scifi series to TV, Last Resort. The crew of the U.S. Navy's largest most advanced nuclear submarine, the USS Colorado, gets orders out of the blue to empty every nuke they carry on Pakistan. When the sub's skipper, Captain Marcus Chaplin (actor Andre Braugher), asks for clarification of the […]