Category: TV
And here's the The Man in the High Castle second season trailer. You even get to watch Marilyn Monroe sing Happy Birthday Mr Fuhrer to a certain Adolf Hitler in this parallel reality science fiction TV show from Amazon Prime.
Netflix continues its roll-out of the Marvel Universe with a little glowing fist sub-Bruce Lee action in Iron Fist – hitting your TV screen (and other devices) March 2017.
'Man From Atlantis' has a crappy reputation, largely because of the 13 episode series, whereas the four 90 minute films are actually not bad for the 1970s time period, although the fourth is the weakest of them. Man From Atlantis I: Pilot cast: Patrick Duffy, Belinda J. Montgomery, Dean Santoro and Art Lund The pilot […]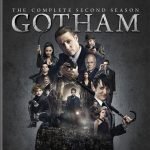 Considering he's basically a man dressed as a bat who hits criminals, it's surprising the myriad of ways in which the Batman mythos can be interpreted. He's the grim Dark Knight Detective. He's the campy hero always ready with a can of 'Bat Anti-Shark Repellent'. He's the arch manipulator always one step ahead of everyone […]
Star Trek Discovery will launch in May 2017, hitting CBS first in the USA, then appearing on Netflix world-wide – including the UK – just a day later. "Bringing 'Star Trek' back to television carries a responsibility and mission: to connect fans and newcomers alike to the series that has fed our imaginations since childhood," […]
'Space 1999', like 'Thunderbirds' and 'Terrahawks' was one of those rare Gerry Anderson productions that actually made it to a second series. That the second series welcomed producer Fred Freiberger who decided to take the show in a direction that more closely resembled 'Star Trek' has been debated about by fans for years. What is […]
Kara Zor-El aka Supergirl has never been treated too kindly by mediums outside of the world of comicbooks. She turned up in one season of 'Smallville' but was never given too much of a focus, whilst many remember the flop 1984 film starring Helen Slater as the eponymous lead. So would Superman's cousin fare much […]
The third season of Gotham is back, and the young Batman stories go ever so slightly nutty.
Star Wars Rebels series 3 is coming your way soon – here's a little trailer to whet your interest.