Category: TV
The new trailer for Arrow (as in Green: we hate explaining that, but hey-ho) has a whole host of bad guys from the D.C. comic-book version… such luminaries as Deathstroke, China White and Deadshot… and John Barrowman! What, Torchwood is in the new Arrow too? Come on, that's a crossover too far, isn't it?
Here's the map of the post-collapse USA as featured in the new TV series Revolution. It's a bit unfair on the Wasteland, though, What is so bad about living in that little corner of the USA? Click to embiggen. (via EW.com).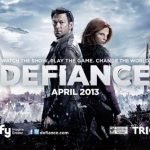 Here's the trailer from Defiance, a TV series-game combo from Rockne O'Bannon of Farscape fame, screening on SyFy. It looks a little like prime scifi cheese from this… the premise being that a near future Earth is overrun by alien colonists, and humanity is pushed to the brink, American Indian style. Hmmmm.
Merlin is back on TV with its 5th season and here's some photos from the episode due to come at us on Saturday, The Death Song Of Uther Pendragon. Hey, is that a royal zombie? Oh dear, Arthur won't like that this one…
That was our not so subtle way of reminding you that the 4th season of the cut price British version of Heroes, Misfits, is back on its way to the goggle box soon. Here's a moody trailer to get you in the superhero spirit. What with Heroes, Alphas and Misfits, you have to wonder if […]
Mockingbird Lane was meant to be the full Munsters TV reboot, but all we are left with now is a TV Movie pilot rather than a complete series. What, is the vampire/zombie/horror TV craze dying off now? Staked through the heart? For us Brits, having Eddie Izzard playing Grandpa Munster is the oddest thing about […]
The 5th season of Merlin is shortly coming our way – and what are everyone's favourite teen wizard and boy king up to this time? Dragons, dark magic and a certain angry young sorceress all come to mind as possible subjects. Yes, it's Smallville given the British fantasy treatment, but we love it!
Continuing from last week, if you're living in a country that hasn't seen these episodes yet, read with caution but I'm not going to give too much away. If you can watch it first, that's even better. I'm still puzzling how the Weeping Angels move. OK, if you catch their eye and then blink, then […]
Only two weeks to go until the start of the 3rd season of Walking Dead and the new trailers keep on coming, just like those pesky walkers in fact. Keep your shotgun close and your enemies closer.