Category: TV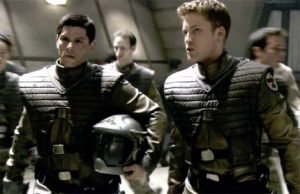 In this latest clip from the upcoming Battlestar Galactica: Blood and Chrome, young William Adama shows a rather unconventional method of dog-fighting cylon raiders. Don't try this at home, kids, you'll end up well and truly frakked up!
The Battlestar Galactica: Blood & Chrome pilot is to screen on the web over at YouTube via Machinima. Here's the trailer for it.
The TV series 'Buffy The Vampire Slayer' has its own large hardback guide to everything you wanted to know about our favourite Slayer and her friends as they protect the world from various demon threats. Here, you see what goes on in front and behind the camera and get a bit about their history. It's […]
Here's the new trailer for SyFy's Defiance… think humanity as the American Indians in an Earth overrun by alien colonists from various races. An interesting premise. Will the TV series live up to it? Let's see.
In his first BBC drama since Eric And Ernie, director Jonny Campbell's In The Flesh is the story of teenager Kieren Walker and his reintegration back into both the local community and the heart of his family. After his death four years ago, his friends and family thought they'd never see Kieren again. But then, […]
A properly nice little trailer for the 4th series of Brit superhero show Misfits which should be showing on E4 this Sunday unless my copy of the Radio Times is telling me massive lies!
'She Spies' is a series that I can't recall ever being show in the UK and I was curious enough to check it out and it was relatively cheap. What isn't revealed, even on the back of the box that this is actually a spoof which often breaks the fifth wall and talks to the […]
Caught between the devil and the deep blue sea, an old saying derived from British maritime history, is an appropriate expression to use when describing the 'Mission: Impossible' TV series remake which was set in Australia and dates from 1988. The original American version ran for seven seasons, yes, a massive seven seasons, but by […]
The new trailer for Arrow (as in Green: we hate explaining that, but hey-ho) has a whole host of bad guys from the D.C. comic-book version… such luminaries as Deathstroke, China White and Deadshot… and John Barrowman! What, Torchwood is in the new Arrow too? Come on, that's a crossover too far, isn't it?