Category: Games
From the start, authors Robert Denton Bryant & Keith Giglio in their book 'Slay The Dragon: Writing Great Video Games' make the point that at $93 billion per annum video game industry, that the $35.9 billion per annum film industry is in a smaller park compared to their industry. A simple straw poll here of […]
Fancy surviving after a nuclear war has devastated the planet? No, me neither. But you can always play in the world thanks to the Fallout series . . . and Fallout 4, as this new trailer shows, is coming our way early November. Just in time for Christmas, really. Big surprise. Die mutie, die!
Some strange little science fiction game called Halo 5 is arriving soon for the X-box (sadly as an exclusive to start with . . . thanks, Uncle Bill). Do you think it will catch on? Here's the trailer, live-action and not much directly to do with the game graphics.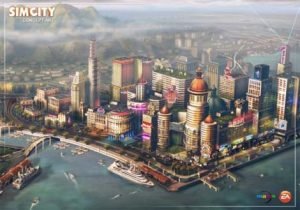 According to Kids and Gaming 2015, the latest report from global information company, The NPD Group, mobile devices are now the devices most used for gaming among kids ages 2-17 (63 percent). This shift has occurred as now only 45 percent of kids ages 2-17 are gaming on a home computer, down 22 percentage points […]
Here's the next iteration of the Anno strategy game franchise, set even more in the future and entitled not unreasonably, Anno 2205. The original scifi strategy game was quite good, if a little fiddly (and almost impossible to beat at even the middle stages of the game – where's my cheats?).
Although I've known of the recent Arkham Batman computer games, I've only recently picked up the 'Arkham Origins', which goes beyond the remit of this book. However, seeing 'Asylum', 'City' and 'Knight' here, in 'The Art Of Rocksteady's Batman' by Daniel Wallace, I can see the roots of the artwork used there. When Rocksteady were […]
http://www.Dungeons&Dragons.com'City Under The Sand' takes place in the Dark Sun setting, an interesting anomaly among the various 'Dungeons & Dragons' worlds. It's a 'dying world' sort of place. Its failing ecology and lack of resources attributed to the use of magic as, in the Dark Sun setting, arcane magic draws its power from defiling the […]
Some new trailer action from the upcoming and much anticipated Star Wars Battlefront computer game for the PS4, PC and Xbox One. Looks like Tie-terror-tastic flying fun to me.
Want to see what the Minecraft Hololens virtual reality game will look like? Wonder no more! Watch it live, here. Best action is at the 2 minutes 25 seconds portion of this fabulous video.