Category: Films
As a going-away gift at his retirement party, Felix is given a virtual reality generator that creates for him an image of a stunningly beautiful young woman. He finds himself forming an emotional attachment to the computer-created image. The self-same story could have been told without any Science Fiction. Directed by Matt Kane; written by: […]
Here's the scary 'ol movie for Netflix's adaption of the Stephen King and Joe Hill short, In The Tall Grass. Looking at it, you have to think … genius; they shot a movie so cheaply all they had to do was find a field and ask the cast to wander around lost in it for […]
The very amusing trailer for the Zombieland 2 film has arrived, so it must surely be time to either nut-up, or shut-up.
I never saw the Tim Curry TV version of 'IT' but with a book on the production of both the current films, I thought it wise to watch the film before tackling it. In October 1988, Georgie (actor Jackson Robert Scott) tries to retrieve his paper boat from going down the drain and encounters Pennywise […]
'The Magnetic Monster' is a film that throws around silly terms like 'a paramagnetic force' and its 'epicenter' but gives no evidence anyone knew what they meant and, in truth, they are meaningless. Rating: high +1 (-4 to +4) or 7/10. In the film 'Ed Wood', the title character gets enthusiastic over some stock footage, […]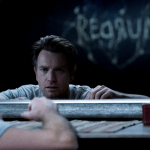 Horror film Doctor Sleep follows the story of Danny Torrance forty years after his terrifying stay at the Overlook Hotel in The Shining film. Still scarred by the trauma he suffered as a child at the Overlook, Dan Torrance has fought to find some semblance of peace. But that peace is shattered when he encounters […]
Those Bad Boys cops Mike Lowrey (played by Will Smith) and Marcus Burnett (played by Martin Lawrence) are back together for one last ride in the crime thriller sequel to the original two Bad Boys films, Bad Boys for Life. This'll hit cinemas 17th January 2020. Here's the official blurb: Marcus Burnett is now a […]
A paralysed chap in a wheel-chair played by Luke Hemsworth comes into contact with an organic-like meteorite which does a facehugger on him, giving him the power to walk again. But is he still human, or has his mind been taken over? Obvious questions to ask, right?
There's a new trailer out for the next Terminator movie produced by James Cameron, Terminator: Dark Fate, with Linda Hamilton as Sarah Connor and Arnold Schwarzenegger as the T-800, returning in their original roles following the events of Terminator 2: Judgement Day. This one is arriving in cinemas on 23rd October 2019.