Category: GENRE
Coming Soon (October 2012) – the next edition of the British Interplanetary Society's e-Magazine features: Part One of "Excavating the Future – Monoliths, Moonships and Malfunctioning Algorithms" Our micro-interview with Vicki Hodges – Astrium engineer and recent BIS guest speaker on "Gaia – the World's Most Advanced Star Mapper" "Band of Brothers" – an editorial […]
The predictable ritual of enduring the Resident Evil film franchise is a critical cross that most film critics have to bear. Think of it as the occupational hazard of the profession. Now in all fairness there are countless filmmakers that milk a movie series regardless of its repetitive, rancid quality. Certainly Len Wiseman immediately comes […]
Here's a behind the scenes video for the science fiction film Looper. This is a classic brain-throbbing time travel consequences movie with Bruce Willis being hunted by his younger self. Think Back to the Future crossed with 12 Monkeys, with added guns and attitude.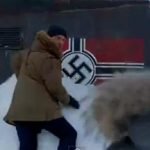 Zero Hour, a new TV series, and the most fun since a certain whip-cracking hero went in search of a lost Ark. A hidden cult has hidden some terrible secrets inside a series of old clock mechanisms. The Nazis once did anything to get their hands on it, and came very close. Sadly for Hank […]
NASA-funded astronomers have, for the first time, spotted planets orbiting sun-like stars in a crowded cluster of stars. The findings offer the best evidence yet planets can sprout up in dense stellar environments. Although the newfound planets are not habitable, their skies would be starrier than what we see from Earth. The starry-skied planets are […]
There's a new trailer for the Walking Dead, in which the living bigots once again prove their prejudices against their non-life'd citizens. Shocking stuff. One day Rick and his band of marauding killers will be held to account. Or eaten. Probably eaten. Thanks to SFX for bringing this piece of gruesome evil to our attention.
We've all seen the recent footage of the landing on Mars from NASA. It was great, if a little low-res. Enter film maker Bard Canning who has taken the footage, cleaned it up, and made an amazing HD movie of how the landing would have looked if we had sent Spielberg to the Red Planet […]
Ah, there is nothing like the companionship of a mechanical mate to get one through the hard times, right? Well, television has certainly provided its share of a walking bucket of bolts throughout the decades on the boob tube. Whether these particular television robots were decorated or despised it did not matter in the least […]
As a child coming of age in the decade of the 1970's, children's programming was crucial for me and other adventurous tykes looking for futuristic escapism particularly if you had science fiction leanings or harbored the appreciation for fantasy that removed you from the world of other silly-minded kiddie fare that did not cater to […]