Category: GENRE
Well, at least there is the consistency of churning out another repetitive 'Paranormal Activity' installment around the Halloween festivities that is still in vogue. Co-directors Henry Joost and Ariel Schulman ('Paranormal Activity 3', 'Catfish') are back at the creepy control panel for the fourth outing in 'Paranormal Activity 4′, an empty-minded boofest that trudges along […]
They sure don't make them like they used to. 'Shock Value' by New York Times film critic Jason Zinoman covers how a few young directors shook up the system and redefined horror. Before these wunderkinds came along, the genre was suffering and hadn't moved on from shuffling monsters in dodgy make-up. It took a group […]
A study of hundreds of galaxies observed by the Keck telescopes in Hawaii and NASA's Hubble Space Telescope has revealed an unexpected pattern of change that extends back 8 billion years, or more than half the age of the universe. "Astronomers thought disk galaxies in the nearby universe had settled into their present form by […]
There's a new trailer just out for the upcoming Halo 4 game which shows the kind of maltreatment you have to go through to fight for humanity against the alien threat. It rather puts me in mind what it must be like to go through boot for the Warhammer Space Marines!
Here's the map of the post-collapse USA as featured in the new TV series Revolution. It's a bit unfair on the Wasteland, though, What is so bad about living in that little corner of the USA? Click to embiggen. (via EW.com).
John Grunsfeld at NASA had this to say to SFcrowsnest about the discovery of an exo-planet around Alpha Centauri, our nearest solar system. We congratulate the European Southern Observatory team for making this exciting new exoplanet discovery. For astronomers, the search for exoplanets helps us understand our place in the universe and determine whether Earth […]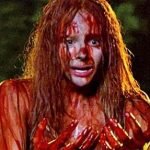 If this was a British movie, at least we could call it Carrie on Screaming. Or bleeding. Or something. Scary stuff. Hopefully for the right reasons, but maybe not. Stephen King, what do you think – write in and let us know?
Tim Burton returns to his roots making a feature-length version of one of the two short films that made him famous. Filling the film with references to classic horror and sci-fi films he tell the story of teenage Victor Frankenstein who brought his dog back to life as a cute and likeable patchwork monstrosity. The […]
This album features music from John Carpenter's 1976 cult classic 'Assault On Precinct 13' and his debut film 'Dark Star' from 1974. Given that one film is a police station siege drama and the other is a deep space thriller, it's probably best that we separate the two films, both originally composed by Carpenter and […]