Brass Sun: The Wheel Of Worlds mini-series # 3 by Ian Edginton and I.N.J. Culbard (e-comic review).
The Wheel of Worlds has problems. The sun is dying. Our heroine is Wren and her home world, Hind Leg, is slowly freezing. There is a transit system between the worlds, largely forgotten by most people, and the Station Master has sent Wren and Conductor Seventeen to the Keep, a planet ruled by the Scarlet Duke. As the story of Brass Sun # 3 opens, two months after the conclusion of Brass Sun # 2, it's his birthday.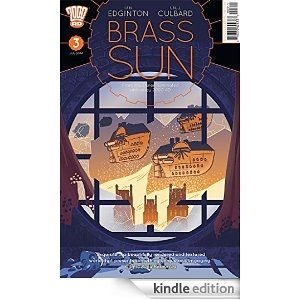 The Duke's servant, Ramkin, wants to escape his servitude. Wren wants to recover her journal which she believes was put in the Duke's library when he was captured. She and Conductor Seventeen also want to find a portion of the mysterious Key which can give access to the Brass Sun. They have to cope with a lot of violence, treachery and doubl-dealing in this quest.
'Brass Sun' is different than the average comic in some ways. The time jumps are odd, leaving two months elapse from one issue to the next. But I guess if nothing much happened, why not? There is a clever jump in time between panels. In one, our heroes are unaware of a big robot looming behind them. In the next, they are about to be executed. The intervening events are assumed but not shown.
There are many good points in both story and art but I found this third issue slightly disappointing. The Key now seems a bit of a Maguffin, something for the characters to chase in an adventure yarn. To be fair, any big story will have low points and I'm hoping things will pick up as the series goes on. I am also presuming that there are more revelations to come about the intriguing Wheel of Worlds.
Eamonn Murphy
September 2014
(pub: 2000AD. 37 page comic Price: £ 1.64 (UK). ASIN: B00LUKTX02)
check out website: www.200adonline.com