Black Mama White Mama (1973) (film blu-ray review).
In 1958, Tony Curtis and Sydney Poitier made a movie called 'The Defiant Ones' where two escapees from prison were shackled together on the run. This movie, 'Black Mama, White Mama', from 1972, is somewhat similar in that two women, Lee Daniels (Pam Grier) and Karen Brent (Margaret Markov), escape from custody despite being at odds with each other but with chains keeping them together. Arrow Films captured the movie and have released it on Blu-ray today.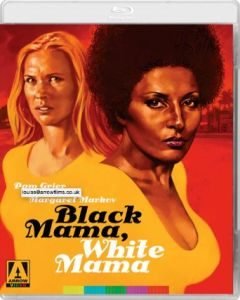 Lee and Karen, the two prisoners in a Philippines jail, have a violent bust-up and, after being thrown in a box in the sun, they are scheduled for transfer to maximum security in another penitentiary. On the way, they are attacked by revolutionaries and set free, so beginning a long adventure. That's the basic plot to the movie.
This isn't really Science Fiction but the director, Eddie Romero from the Philippines was quite proficient in directing horror and such like, including 'The Mad Doctor Of Blood Island', 'Brides Of Blood' and 'The Twilight People'. In fact, on the extras you will find an archived interview with him. Other extras include high-definition, original mono, optional subtitles. Also, an audio commentary by filmmaker Andrew Leavoid, and interviews with Margaret Markov and star Sid Haig and a gallery of images.
Concerning the movie, it's full of boobs and bums, action, humour and gun battles. After being released by the revolutionaries, they have different agendas which makes life difficult being chained together. Lee had a pile of money from a previous robbery stashed away and wanted to get her hands on it to utilise an escape to more pleasant surroundings but Karen had other ideas, basically to join up with the revolutionaries. Escape from the island they were on was going to be difficult and there are many obstacles in the way by all sorts of opponents not least themselves. The sadistic drug lord doesn't help and neither does the corrupt border guard and the bounty hunter. Sufficient to say, the pace is relentless and the action continuous, making it a movie which will not be boring.
This is a Blu-ray of a certain type and it will not suit everybody. It is also a bit dated which is to be expected from something well over 40 years old. However, it is reasonable enough to be recommended but do not expect too much.
Rod MacDonald
March 2016
(region b blu-ray: pub: Arrow Films. 1 blu-ray disk 87 minute film and extras. Price: £19.99 (UK). ASIN: B01BNJ8ME2)
cast: Pam Grier, Margaret Markov and Sid Haig
check out website: www.arrowfilms.co.uk