Author Archive: ColonelFrog
Colonel Frog is a long time science fiction and fantasy fan. He loves reading novels in the field, and he also enjoys watching movies (as well as reading lots of other genre books).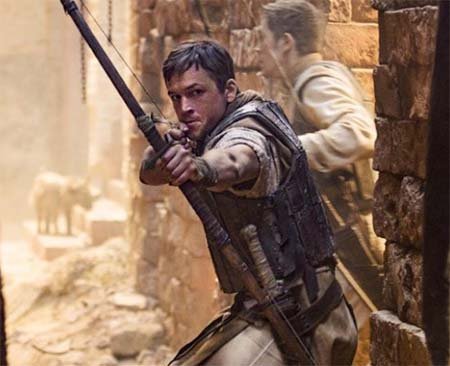 Here's the new trailer for the new Robin Hood movie from Lionsgate with Taron Egerton wearing the hooded one's mantle and Jamie Foxx as his chum back from the Crusades.
Here's the second trailer for the reboot of the Predator movie coming in 2018.
Another horror zombie type-movie, Patient Zero, where a pandemic turns the majority of humankind into violent "Infected," and a man gifted with the ability to speak the Infected's new language (Matt Smith) leads the last survivors on a hunt for Patient Zero and a cure helped by a scientist played by Natalie Dormer. Stanley Tucci plays […]
Tov Matheson is a war veteran with PTSD (post traumatic stress disorder) who perceives that the end of the world is coming. After establishing a relationship with a dubious Messiah, he leaves his normal life and begins the construction of a shelter underground, training himself, in an extreme way, at the cost of losing everything […]
Here's a little teaser trailer for the Stranger Things 3rd season, in which things go all retail with the introduction of a fab new mall to the town with many dark secrets, Hawkins. 
Here's the first trailer for the Doctor Who season 11 season, featuring Jodie Whittaker as the first female Doctor (that we know about, at any rate). This one is getting the team together. Looking good. Wonder if there will be some Missy vs Docy action in the next series, too? Surely!
Designer and racer Taso Marques has built the rather science fictional-looking TMC Dumont using an old aircraft engine – what do you think? Resembles something that wouldn't look out of place driving down the overways of MegaCity One, right? 
For the first time ever, scientists using NASA's Fermi Gamma-ray Space Telescope have found the source of a high-energy neutrino from outside our galaxy. This neutrino traveled 3.7 billion years at almost the speed of light before being detected on Earth. This is farther than any other neutrino whose origin scientists can identify. High-energy neutrinos […]
Here's a new Netflix alien invasion series, Extinction, hitting your Netflix account on July 27th 2018. In our current time, a U.S.-based engineer played by Ant-man's Michael Peña has a recurring nightmare of losing his family during an alien invasion. Things take a dark turn when his nightmares become real after the Earth is invaded […]