Author Archive: ColonelFrog
Colonel Frog is a long time science fiction and fantasy fan. He loves reading novels in the field, and he also enjoys watching movies (as well as reading lots of other genre books).
After months grappling with the rugged reality of asteroid Bennu's surface, the team leading NASA's first asteroid sample return mission has selected four potential sites for the Origins, Spectral Interpretation, Resource Identification, Security-Regolith Explorer (OSIRIS-REx) spacecraft to "tag" its cosmic dance partner. Since its arrival in December 2018, the OSIRIS-REx spacecraft has mapped the entire […]
Bong Joon Ho of Snowpiercer and The Host fame brings us a new dark fantasy film, Parasite, set in South Korea about how the unemployed and unemployable dirt-poor Kim family start sponging off the uber-rich Park family, with the two younger kids in the Kim clan impersonating a tutor and art therapist to offer exclusive […]
Your next career move might be asteroid miner … this video documentary looks at how the tech is progressing and how near we are to hoovering up the vast amounts of mineral riches and rare minerals just floating out there in space. Some serious money is going into this and the new asteroid mining industry […]
Here's the second season trailer for the animated Star Wars Resistance TV series. For those of you new to this, it all takes place against the plot-line of The Last Jedi, leading up to The Rise of Skywalker, as Kaz and the other rebels continue to battle against the wicked First Order. It hits Sunday […]
Here's the trailer for the new Treadstone spy-fy TV series based, of course, on the Bourne film series, and set to premiere on USA Network in October 2019. Treadstone explores the origin story of the CIA black ops program known as Operation Treadstone — a covert program which uses behaviour-modification systems to turn recruits into […]
The Glasgow in 2024 bid team are looking to bring the World Science Fiction Convention back to Glasgow, Scotland, for what will be the 82nd occurrence of the annual event. They are officially launching their bid at this year's Worldcon, Dublin 2019, due to take place in Dublin, Ireland, from 15th-19th August. They have confirmed […]
Since it was announced in May 2017, things have gone a little quiet for the much-anticipated Judge Dredd: Mega-City One TV series. So, what's happening? Andre Einherjar has a few theories, but are they right … ?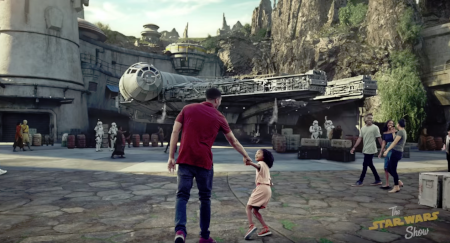 Are the kids now abandoning Star Wars? Disney's financial results and their Star Wars franchise specifically is increasingly looking like a bad bet for the Mouse. Especially in the face of a run of very successful Marvel movies. Star Wars, only for your dad? I hope not. Otherwise it'll end up like Star Trek as […]
Answering the question of are we alone has turned out to be a bit more difficult than was originally envisioned when SETI first began decades ago. At first it was a matter of looking for giant omni-directional beacons blasting out high energy messages, much like what we saw in the movie contact. But as we've […]