Author Archive: ColonelFrog
Colonel Frog is a long time science fiction and fantasy fan. He loves reading novels in the field, and he also enjoys watching movies (as well as reading lots of other genre books).
No sooner has one Dr Who episode been put to bed than another hoves into view. This one has the Doctor playing the James Stewart Winchester '73 role in this rooting-tooting Western, fighting a cyborg gunslinger that seems to be doing his/its best to look like a Borg cube-crash victim. Well, no doubt more light […]
There's a making of documentary just hit the view-tubes that goes behind the scenes of the fab-looking upcoming computer game, Dishonoured. So far, all we've had are the trailers for this game, so it's nice to see some flesh put on the bones of the Victorian world. It could almost be the Kingdom of Jackals' […]
You have got to love those merry pranksters at Google. They are celebrating the latest Trek anniversary in style, with a fully animated Google Trek logo that you can click into and move around a Googled-up Enterprise. Well, most IT nerds love the Trek, don't we, so no doubt the team at the big G. […]
Are you readers out there in online land suffering the same level of withdrawal from the end of the rebooted Battlestar Galactica TV series that I am? If you are, then this game might just prove the cure for your ills. It's a fan-created computer game for would-be viper pilots to mount up inside the […]
Here's the new trailer for the much loved film adaptation of the Cloud Atlas novel. As in the book, this has the focus on a love story that survives the ages through reincarnation, and leaps about through time – including two lengthy sci-fi segments. The first set in a cyberpunk dark future. The second set […]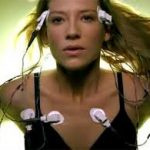 Season five of Fringe (the last one, folks) is heading your way the end of this month. You will watch it, won't you? Or the people from the future will MAKE you! Heed. Obey. Serve.
What better way to promote the new 3d Judge Dredd flick than to run an animated origins story for the movie's baddie. That would be drug-dealing Ma-ma Madrigal, aka actress Lena Headey, best known to us SF geeks as Mrs Sarah Connor from the Chronicles of the same name. Killing Terminators, killing Judges, what's the […]
From the look of this new clip from the Judge Dredd movie, it appears as if Karl Urban is making the role of Judge Dredd his own. I'm with Wil Wheaton Block, want to rumble?