Author Archive: ColonelFrog
Colonel Frog is a long time science fiction and fantasy fan. He loves reading novels in the field, and he also enjoys watching movies (as well as reading lots of other genre books).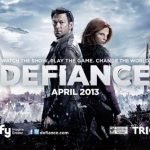 Here's the trailer from Defiance, a TV series-game combo from Rockne O'Bannon of Farscape fame, screening on SyFy. It looks a little like prime scifi cheese from this… the premise being that a near future Earth is overrun by alien colonists, and humanity is pushed to the brink, American Indian style. Hmmmm.