Author Archive: ColonelFrog
Colonel Frog is a long time science fiction and fantasy fan. He loves reading novels in the field, and he also enjoys watching movies (as well as reading lots of other genre books).
Here's the trailer for the live action movie based on the Dora the Explorer cartoon series,  Dora the Explorer Lost City of Gold, which comes across as young Lara Croft meets The Goonies. It actually looks quite fun, which is a pity, because I really would have far preferred to loathe it. 
If you like your anime TV in classic-big mecha style, then the appearance of Neon Genesis Evangelion on Netflix this Summer will undoubtedly warm the seat of your massive fighting robot. Yes, the go-live date on Netflix is now officially June 21st 2019. It might even be worth sacrificing a few sunny days outside in […]
Supernatural's 15th season is now set to be its last on the CW, as actor Misha Collins (aka the angel Castiel in the television series) has confirmed that there will be no 16th series as Supernatural's now been cancelled. Fans are already mobilising to see if they can get it picked up by the likes […]
Last December (2018), an untracked and rather unexpected meteor exploded over the Bering Sea releasing 173 kilotons of energy, or more than ten times the energy of the Hiroshima atomic bomb blast. To put this event in context, if this meteor came in on a less fortunate angle and hadn't air-burst, but instead struck the […]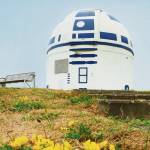 The Zweibrücken Observatory of the Natural Science Association is now, sadly, in danger of being attacked by Imperial storm-troopers thanks to one Professor Hubert Zitt. Along with his students, the professor decided to convert the observatory into a rather over-sized R2-D2, by dint of a spiff new paint-job. Asked why he would carry put this […]
British actor Emilia Clarke, aka Daenerys Targaryen and Mother of Dragons in the Game of Thrones TV series, has been speaking about how close she came to death from a horrible pair of brain aneurysms which required three emergency brain surgeries by the NHS in the UK to save her life. The first aneurysm struck […]
Amazon Prime isn't going to take Disney's plans to conquer the streaming market lying down – it's reaching for the ammo box, and right next to a grenade labelled 'massive Lord of the Rings TV expansion' is a claymore mine which reads 'Dark Tower TV series'. Yes, British actor Sam Strike is to play Roland […]
There's a new poster out for the 8th season of the Game Of Thrones fantasy TV series. But, the question is, does it contain spoilers for the eventual victor of the iron throne? Hmmm, you might say the 'eyes' have it! George, you'll do us proud, yet, old boy.
Visually immersive, in manga, the images rule supreme. The Japanese characters for manga actually translate as 'pictures run riot' or 'pictures unbounded'. But how do you read it? And when did it emerge? You can find out at the British Museum's new upcoming manga exhibition – titled, rather appropriately, Manga – due to headline in […]