Author Archive: ColonelFrog
Colonel Frog is a long time science fiction and fantasy fan. He loves reading novels in the field, and he also enjoys watching movies (as well as reading lots of other genre books).
Tim's debut novel is Thirty-Six Streets – a cyberpunk thriller mixed with military SF: Ghost in the Shell meets Apocalypse Now. Set around 150 years in the future. Lin 'The Silent One' Vu is a gangster and sometime private investigator. Born in Vietnam, raised in Australia, everywhere an outsider. She lives in Chinese-occupied Hanoi, in […]
It's a bad day to be a hero, apparently – at least, so says the second season trailer for the SyFy TV series, Krypton, in which Superman's grandfather has to restore the El house's faded glory – his world now suffering under the tyranny of the House of Zod, as well as Brainiac's schemes for […]
Intel, Cray, the U.S. Department of Energy are to deliver the first supercomputer with a performance of one exaFLOP in the United States. The system being developed at DOE's Argonne National Laboratory in Chicago, named "Aurora," will be used to advance scientific research. The contract is valued at $500 million and will be delivered to […]
You have to give it to indie RPG publisher, Sons of the Singularity, they sure know how to come up with new difficulties when successfully crowd-sourcing a new Call of Cthulhu scenario. In SoS's case, they – along with half the rest of the Western publishing industry – sent their RPG out to China to […]
Here's the trailer for the live action movie based on the Dora the Explorer cartoon series,  Dora the Explorer Lost City of Gold, which comes across as young Lara Croft meets The Goonies. It actually looks quite fun, which is a pity, because I really would have far preferred to loathe it. 
If you like your anime TV in classic-big mecha style, then the appearance of Neon Genesis Evangelion on Netflix this Summer will undoubtedly warm the seat of your massive fighting robot. Yes, the go-live date on Netflix is now officially June 21st 2019. It might even be worth sacrificing a few sunny days outside in […]
Supernatural's 15th season is now set to be its last on the CW, as actor Misha Collins (aka the angel Castiel in the television series) has confirmed that there will be no 16th series as Supernatural's now been cancelled. Fans are already mobilising to see if they can get it picked up by the likes […]
Last December (2018), an untracked and rather unexpected meteor exploded over the Bering Sea releasing 173 kilotons of energy, or more than ten times the energy of the Hiroshima atomic bomb blast. To put this event in context, if this meteor came in on a less fortunate angle and hadn't air-burst, but instead struck the […]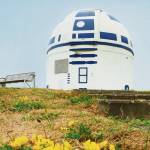 The Zweibrücken Observatory of the Natural Science Association is now, sadly, in danger of being attacked by Imperial storm-troopers thanks to one Professor Hubert Zitt. Along with his students, the professor decided to convert the observatory into a rather over-sized R2-D2, by dint of a spiff new paint-job. Asked why he would carry put this […]